China's Crackdown Brings Developers Crashing Back to Earth
Bloomberg News
Shares of Sunac, Evergrande tumble after scorching gains

Chinese cities unveil a raft of property curbs to cool market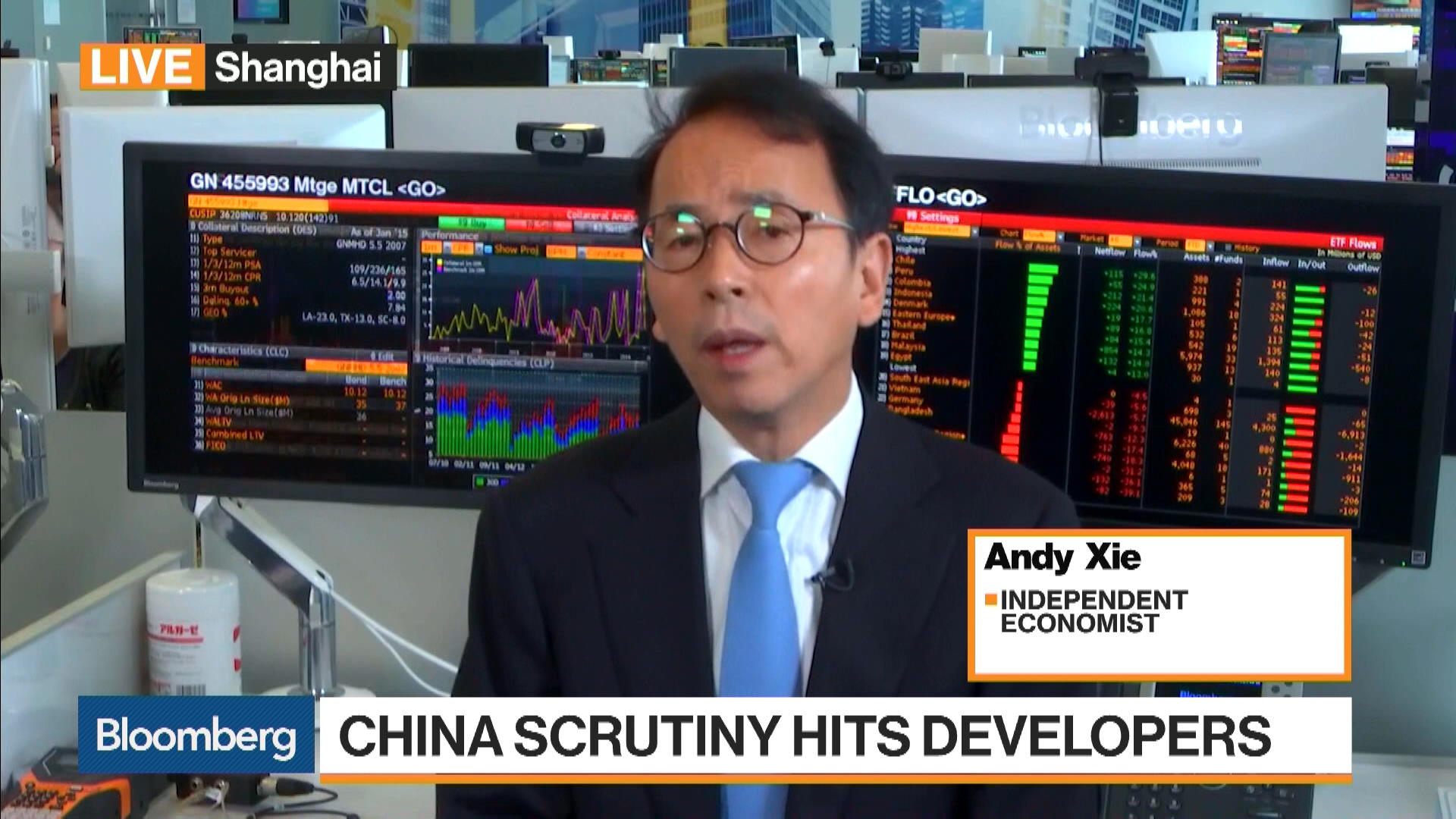 The world's most extreme stock rally is getting a reality check.
After share price gains at Chinese property developers accelerated at a breathtaking pace in the past month, led by an 87 percent surge in Sunac China Holdings Ltd., the momentum has started to turn as authorities have taken a harder line on reining in financial risks. Six of the 10 best performers on the MSCI All-Country World Index in the one month through Sept. 21 were Chinese real estate firms. Chinese developers had their biggest slump in six years on Monday and slipped again on Tuesday.

Record home sales and buoyant earnings helped spur an unprecedented rally this year for Chinese developers, especially large firms positioned to wrest market share through debt-fueled acquisitions. Top of that list are the nation's two most indebted developers -- China Evergrande Group and Sunac -- whose shares swelled 439 percent and 391 percent respectively.  Some investors were starting to question how long the astonishing share gains could last, even before a raft of housing curbs over the weekend.
"The drop of property stocks today brings a reality check," Andy Wong, Hong Kong-based senior investment manager at Pictet Asset Management, which manages $185 billion, said in a briefing Monday. "In the past few months investors have been focusing purely on growth. But it's never wise to totally ignore the risk of leverage."
Sunac shares have plunged almost 16 percent from a Sept. 19 high, amid the general pall over the sector and news that a financial firm is scrutinizing its loans to Sunac, China's most leveraged developer. Evergrande shares have tumbled more than 12 percent in the past three trading sessions, matching the decline in a Bloomberg index of 22 mainland developers.
Even with the recent selloff, Chinese developers remain among the world's best-performing stocks this year. Evergrande and Sunac are the two top stocks in the MSCI All-Country World Index this year. Part of that rally was stoked by a housing market boom that buoyed developers' earnings in the first half, sending sales soaring and boosting profit margins to the highest levels in three years, according to calculations based on earnings reports.
A short squeeze has also propelled some developer stocks higher this year, according to Wang Qiang, chief investment officer of Pinpoint Asset Management. A surge at companies such as Evergrande and Country Garden Holdings Co. forced short sellers to cut bearish bets on the shares -- a move that boosted shares even higher, said Wang, whose firm oversees $1.9 billion in hedge funds.

"What's been happening this year is crowded shorts getting squeezed," said Wang. "When a long-only fund or other institution all of a sudden bought a lot of shares, their share prices went through the roof on certain days this year."
In the case of Evergrande, the shares also benefited from a series of buybacks and large stock purchases by Chinese Estates Holdings Ltd., a firm which is controlled by billionaire Joseph Lau's family.
Analysts have expressed concern over Evergrande's staggering debt load, which the developer has vowed to cut. The company has repaid perpetual securities and highlighted targets for reducing leverage in coming years. Still, some analysts remain skeptical.
"Evergrande, despite all the noise about deleveraging, fundamentally has an extremely weak balance sheet," said Nigel Stevenson, an analyst at Hong Kong-based GMT Research.
Analysts have similar reservations about Sunac, whose acquisitions include a struggling Internet company and the purchase of theme parks from Dalian Wanda Group Co. Sunac's net gearing was the highest among major listed developers in Hong Kong in the first half -- rising to 394 percent from 208 percent a year earlier -- if the firm's perpetual bond securities are treated as equity, according to CIMB Securities Ltd. and credit ratings firm Lucror Analytics.
Read more on Chinese developers' debt
After its share rally, Sunac trades at 27 times reported earnings, the highest in a gauge of 22 Hong Kong-listed Chinese developers, according to data compiled by Bloomberg. That compares with 14 times for Evergrande.
"From a valuation point of view, we see a bubble there as shares seem to have overpriced in any fundamental positives including contract sales growth and landbank expansion," said Toni Ho, a Hong Kong based analyst with Rhb Osk Securities Hong Kong Ltd. Ho, who has a sell rating on Sunac, has a price target of HK$14.8 for the shares, implying a decline of about 54 percent from current levels.
Developer shares aren't the only ones that are coming off of a scorching rally. Automakers have also plunged as investors take profit in the top market performers before the quarter ends.
Still, the recent moves underscore the real risk that developer earnings will slow as government restrictions tighten and sales slow.
"It's about time to think about whether the fundamentals can match the year-to-date rally of the sector," said Arthur Kwong, Hong Kong-based head of Asia-Pacific equities at BNP Paribas Asset Management. "In particular, for the ones with a lot of gearing, there could be underlying disappointment."
— With assistance by Jeanny Yu, Amanda Wang, Bei Hu, Emma Dai, and Paul Panckhurst
Before it's here, it's on the Bloomberg Terminal.
LEARN MORE