World's Biggest Country Doesn't Have to Go Far for Cheaper Labor
By and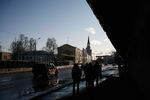 Just a seven-hour drive south of Moscow, Stary Oskol could be a world away when it comes to the costs of running a business.
For Metalloinvest Holding Co., the bargain was too good to pass up. Starting in July, Russia's largest iron-ore producer is relocating some management personnel from the capital to the old mining center that's perhaps best known as the home of the country's most celebrated mixed-martial-arts fighter. And once its new service hub there is up and running, the company expects to cut its expenses for operations such as bookkeeping and human resources by almost a third.
Billionaire Alisher Usmanov's Metalloinvest is the latest among a slew of major companies that are seizing on the discrepancies in pay and costs, queuing up for smaller towns left behind during the oil boom years of the past decade. As the economy digs out of its longest recession this century, a tepid recovery is depressing corporate profits and pushing businesses to cut expenses. 

"Entrepreneurs at private companies lack the confidence that the future will be any better," said Dmitry Prokhorenko, head of a department at Russian IT firm IBS that manages human resources for other companies. "That's why now is the right time to maximize profits and focus on cutting costs."
With wages on the rise, companies from MMC Norilsk Nickel PJSC to Severstal PJSC are looking to cities like Saratov and Yaroslavl to fill some positions, all the while without straying too far from home. It's also a way of overcoming the inability or unwillingness of workers to move between different geographical areas despite stark gaps in earnings, a dilemma that's become a choke point for growth in Russia and left parts of the world's largest country by territory with entrenched unemployment. 
The obstacles for workers vary, ranging from high transport costs and long distances to the difficulty of finding affordable housing, according to the Labor Ministry. A lack of mobility among the workforce may only compound the challenges facing the economy after two years of contraction, with all but seven of Russia's 85 regions registering increases in poverty between 2013 and 2016.
Youth, Education
But newly cost-conscious companies are now giving a host of smaller towns a second look. What the places have in common, besides the cost advantage, is that many are well served by transport links and universities. 
For Uber Technologies Inc., which opened a back-office center in Voronezh this year, what made the southeastern city a big draw is its network of educational institutions, according to Irina Gushchina, communications director for the ride-hailing company in Russia and former Soviet states.
"There's a lot of youth here, a high level of education and interest in contemporary technology and innovations," she said by email.
Sufficient space to accommodate the new arrivals is another factor, with broker Knight Frank LLP saying businesses are increasingly considering cheaper options for offices outside major cities.
"It's part of a general trend of saving funds and optimizing costs," said Konstantin Losyukov, head of the office real estate department at Knight Frank in Russia. "Maybe previously that was less pronounced because there was enough money and no one gave it much thought."
Penza, Yaroslavl
The creeping expansion of corporate geography has taken X5 Retail Group to Penza, a city of more than 500,000 people about 640 kilometers (400 miles) southeast of Moscow, where the country's largest grocery chain outsourced its recruitment system. Cherepovets-based steelmaker Severstal has a service hub in Yaroslavl, 260 kilometers away from its main smelter in northern Russia.
Norilsk Nickel, Russia's biggest miner, last year picked Saratov to house its personnel responsible for payroll administration and human resources of some of its units. Its presence will expand in the port city on the Volga River as the company's home base inside the Arctic circle got its first broadband internet this month, allowing for further centralization of administrative functions. 
Meanwhile, United Co. Rusal, the country's biggest aluminum producer, has service hubs in the Siberian city of Krasnoyarsk and Kamensk-Uralsky in the Sverdlovsk region, which allow to reduce the operating cost of management by half, according to the company's press service.
Metalloinvest's Anton Grigoriev, who relocated from Moscow to Stary Oskol, believes the smaller city makes up in career prospects what it may lack in some amenities. The 29-year-old specialist in metallurgical technology says any difficulties his family is facing are only temporary. Meanwhile, it doesn't take him as long to get to where he can do sports.
"It's a start of a new life stage for me," Grigoriev said.
Before it's here, it's on the Bloomberg Terminal.
LEARN MORE