Kiwi Falls With Euro on Political Uncertainties After Elections
By and
Yen slips before an expected announcement of a snap election

New Zealand First Party courted to form coalition government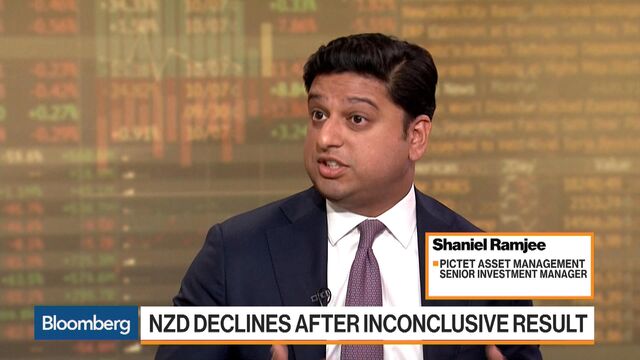 The kiwi and euro declined as weekend elections in New Zealand and Germany left the ruling parties facing tough negotiations to form coalition governments. The yen also fell on a report that Japan's prime minister is planning a stimulus package.
New Zealand's dollar weakened against all of its major peers after Saturday's inconclusive election outcome left investors uncertain over who will lead the next government. The euro halted a two-day gain as German Chancellor Angela Merkel's victory was marred by a worse-than-expected result that leaves her facing the most splintered parliament in the nation's modern history.
In New Zealand, "there is a degree of uncertainty that could be around for another two-to-three weeks and markets don't like uncertainty, period," said Ray Attrill, global co-head of foreign-exchange strategy at National Australia Bank Ltd. in Sydney. "The euro's weakness is understandable given the likely drawn-out process before a new government is formed."
The yen fell after a report said Japanese Prime Minister Shinzo Abe is planning a 2 trillion yen ($18 billion) economic package. His ruling party held a commanding lead in polls released before his expected announcement of a snap general election on Monday.
NZD/USD slides 0.8% to 0.7275 vs session low of 0.7269
Incumbent National Party won 58 seats in the 120-seat House of Representatives, while the main opposition Labour Party secured 45

Formation of a government will depend on either party striking a deal with the New Zealand First Party, and talks may drag on for weeks. PM Bill English claims a mandate after winning most seats, while Labour's Jacinda Ardern refuses to concede
"We regard it as far from a given that Nationals and Peters will come to an arrangement that sees the Nationals leading the next government," says NAB's Attrill

AUD/NZD surges 0.8% to 1.0943

Gains of as much as 0.2% in the kiwi were sold into by option desks holding AUD/NZD put options expiring Sept. 27, according to a trader not authorized to speak publicly
Put options worth A$1.07b with strike price of 1.0830; desks long the strike able to buy Aussie and sell kiwi as cross approaches strike level

EUR/USD slips 0.2% to 1.1931 vs 1.1897 session low
Both Merkel's Christian Democrat-led bloc and her main challenger, Martin Schulz's Social Democrats, plunged to historic lows as votes flowed to the anti-immigration Alternative for Germany
"Investors were hoping for a more decisive defeat of the anti-EUR party before the Italian election in early 2018," says David Forrester, a strategist at Credit Agricole's corporate and investment-banking unit in Hong Kong

Any dip in EUR could remain a buying opportunity ahead of inflation data and the Oct. ECB meeting

USD/JPY advances 0.3% to 112.32
Yen may retreat as long as North Korea refrains from further action, but lingering wariness will underpin the currency while market players eye developments in Japanese politics, says Tohru Sasaki, head of Japan markets research at JPMorgan
USD/JPY's gains were driven by election talk and prospects of more spending in the event of an Abe victory, according to an FX trader. Advance capped by exporters near 112.50
BBDXY rises 0.1%, with Treasury 10-year yield steady at 2.26%
— With assistance by Chikako Mogi
Before it's here, it's on the Bloomberg Terminal.
LEARN MORE