May's Florence Speech: the Key Changes in Her Brexit Stance
By
A transition plan and an offer of cash were main points

May also made concessions on rights of EU citizens in U.K.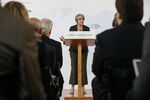 U.K. and European Union officials return to the negotiating table on Monday in Brussels with a new blueprint for Brexit from Prime Minister Theresa May.
Below is a breakdown of what she said on Friday in Florence and how it changed her approach to the split. Michel Barnier, the EU's chief negotiator, called it a "step forward" but urged the British to turn her words into a "precise negotiating position."
TRANSITION
May proposed for the first time that Britain have a transition of "around two years" after Brexit in March 2019, during which it would keep the same trading conditions with its biggest market. Businesses will only have to make one set of changes to adapt to the split, she said.
Britain would continue to pay into the budget a sum of about 20 billion euros and accept the bloc's rules, including freedom of labor movement. Brexit Secretary David Davis said on Sunday that the jurisdiction of the European Court of Justice would end in 2019, redrawing a red line left vague by May. Weekend newspaper reports said the Cabinet remains split on how long the transition should last.
MONEY
As well as paying for the transition, May said the U.K. would "honor" its commitments. An official said this meant she was open to discussing financial commitments more broadly, beyond the scope of the EU budget. She also said Britain would be willing to pay to participate in joint science, education security and cultural projects. The Times cited officials in Brussels as saying the U.K. would in total propose paying 40 billion pounds ($54 billion) -- a number Davis said was "made up." Welt am Sonntag put the figure on Sunday at 60 to 70 billion euros ($71 billion to $84 billion).
TRADE
While the EU needs to hear more about what the U.K. wants, May spent more time ruling things out. She rejected Norway-style membership of the European Economic Area, which would require freedom of labor movement and accepting rules without a say in making them. She said mimicking the Canadian trade model lacked ambition. May ultimately wants a "bespoke" model, which she argued should be feasible given the two economies already have the same regulations and standards. The EU may not think this realistic and in any case, it will take time.
Read more: Britain's Not-So-Sweet Options for EU Trade Deal
CITIZENS' RIGHTS
A key concession was made here. May said the U.K. will put into law whatever rights are agreed and allow U.K. courts to take into account judgments made by EU courts aimed at protecting their nationals living in Britain. EU citizens coming to the U.K. after March 2019 would be subject to a registration system.
TONE
The tone was different to when May first outlined her Brexit vision in January. There was no mention in the speech of the provocative "no deal is better than a bad deal," although when pressed by a reporter May said it remained her view. Having once used security provisions as a bargaining chip for trade access, she now offered unconditional support and called for deeper cooperation in the form of a treaty. She also walked away from the threat to turn Britain into a low-tax, regulation-light economy if pushed.
Before it's here, it's on the Bloomberg Terminal.
LEARN MORE