U.K. Concerned by Reports of Iran Missile Test, Johnson Says
By
Boris Johnson makes comments on his Twitter account Saturday

Says such a test 'not consistent' with UN Resolution 2231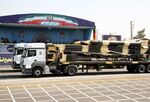 U.K. Foreign Secretary Boris Johnson said he is "extremely concerned" by reports that Iran tested a missile, saying the action was inconsistent with United Nations resolutions. He urged the nation to halt "such provocative acts."
Johnson made the comments on his Twitter account, after Press TV reported that Iran had successfully test-fired a new ballistic missile. The missile was unveiled Friday as part of a military parade in the Iranian capital, Tehran. The location of the test-firing hasn't been identified.
Iranian President Hassan Rouhani had vowed to strengthen his country's military and ballistic capabilities in a live speech on state TV. He argued that the move was necessary for deterrence and added that he wouldn't be seeking anyone's permission. Rouhani had rejected a U.S.-led effort to alter the Iranian 2015 nuclear agreement at the United Nations General Assembly in New York on Wednesday.
In his inaugural UN speech Tuesday, President Donald Trump called the Iranian nuclear deal negotiated by his predecessor, Barack Obama, "an embarrassment to the United States" that should be revisited. On Wednesday, he said he has made a decision on whether the U.S. will continue to abide by the deal, but he declined to elaborate. Trump has until Oct. 15 to certify to Congress that Iran has complied with the accord, a decision he must make every 90 days.
Johnson referred to UN resolution 2231, implemented by the Security Council on July 20, 2015. It stresses the importance of finding diplomatic solutions to ensure that Iran's nuclear program was developed exclusively for peaceful purposes.
Before it's here, it's on the Bloomberg Terminal.
LEARN MORE