Turkey Says Kurd Independence Vote Is Direct Security Threat
By and
Security council says referendum illegitimate, unacceptable

Turkish army has been conducting drills near border this week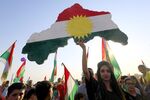 Turkey sent a final warning to Iraq's Kurdish provinces to drop plans for a referendum on independence scheduled for Monday, calling the vote a direct threat to its national security.
The National Security Council, chaired by President Recep Tayyip Erdogan, said after a Friday meeting that the Kurdish vote would have "terrible consequences" for the region. It said Turkey reserves its sovereign rights under international accords should the referendum go ahead. The Cabinet met later on Friday to discuss Turkey's response. Government spokesman Bekir Bozdag said afterwards that a plan of counter-measures has been drawn up, though he declined to give details.
Before the security council meeting, Prime Minister Binali Yildirim cited the 1926 accord that defines the border with Iraq, in which Turkey ceded its claims to the Iraqi provinces of Mosul and Kirkuk in return for guarantees that its neighbor would remain a unified state.
Massoud Barzani, president of the semi-autonomous Kurdistan Regional Government, has so far ignored warnings from Turkey, Iran, Iraq and the U.S. against going ahead with the vote, and said on Friday his government is ready for serious dialogue with Baghdad -- but only after the referendum, the Kurdish Rudaw news service reported.
Turkey fears that a vote for Kurdish independence in Iraq's oil-rich north could set back its own campaign to stamp out a Kurdish insurgency it's been battling for three decades. That concern has overridden the strong ties that Turkey has built with the Iraqi Kurds, based on energy links and a mutual suspicion of the government in Baghdad.
Kurds to Vote for Statehood. Neighbors Say No Way: QuickTake Q&A
"Turkey feels Barzani is getting himself into deep trouble which he cannot handle," Ilnur Cevik, a chief adviser to Erdogan, wrote in an editorial in the English-language Daily Sabah.
Military Drills
The Turkish army has been conducting tank drills near the border with Iraq's Kurdish region since Sept. 18, underscoring Turkey's threat to do whatever it deems necessary against the push for independence. The prime minister's office submitted a draft motion on cross-border military operations to parliament on Friday, according to a copy seen by Bloomberg.
The tension has weighed on financial markets, with Turkey's benchmark Borsa Istanbul 100 Index down 3.4 percent this week, the biggest drop this year.
A key concern for Turkey, according to Cevik, is that the vote would prompt a military response from Baghdad, which could in turn trigger an exodus of Iraqi Kurds toward Turkey.
Iraq's Kurds Seek Independence: What Impact for Oil Markets?
Turkey is also concerned about the fate of the Turkmens in Kirkuk, and fears that the Kurdish militant group PKK -- which has been waging a war for autonomy in southeast Turkey from its bases in northern Iraq -- could exploit the situation to advance its own interests, he said. "This cannot be accepted or tolerated by Turkey," Cevik said.
Moqtada al-Sadr, a prominent Iraqi Shiite cleric and political leader, said the Kurds were not aware of the the threat they would face if they push for the referendum, Turkey's state-run Anadolu Agency reported on Sept. 21. The Kurds should negotiate rather than seek separation, he said.
Kurdish Enthusiasm
Ahead of the referendum, crowds have been filling the streets of Erbil, the region's capital, dancing and waving Kurdish flags. The 900,000 people registered to vote will be asked one question: "Do you want the Kurdistan region and the Kurdistani areas outside the region's administration to become an independent state?" More than 98 percent of Iraqi Kurds voted for independence in a 2005 referendum that did not result in statehood.
But there's no mechanism for secession, and senior Kurdish officials have said they will take their time arranging a divorce. Rather than pursue a split, some analysts have said that the regional government wants to use the result to force the Iraqi government to resolve long-standing arguments over territory and revenue from oil sales.
The future of Kirkuk, which along with nearby oil fields produces about half a million barrels of crude daily, is a key element. Kurds have effectively been in control of the region since 2014, but it's officially administered by the national government in Baghdad, which says it won't negotiate it away.
Israel and Russia, the top funder of Kurdish oil and gas deals, are the only major players in the Middle East that haven't called for the plebiscite to be canceled -- and only Israel has actively encouraged the Kurds.
— With assistance by Dana Khraiche
Before it's here, it's on the Bloomberg Terminal.
LEARN MORE