Debt-Laden Time Seeks Breathing Room for Turnaround
By
Company looks to extend credit facility and loan, sell bonds

'First step' as old-line publisher seeks digital-age relevance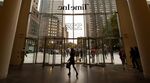 Time Inc., publisher of the iconic magazine that first hit the stands in 1923, is looking to ease a billion-dollar debt load that's hobbling efforts to get ready for its next century. 
The company aims to extend the maturity of a revolving credit facility and a term loan, each by 3 1/2 years, New York-based Time said in a regulatory filing Friday. It's also trying to cut the credit facility to $300 million from $500 million, according to the filing. Additionally, Time said it plans to sell up to $300 million in senior unsecured notes due in 2025 to repay $200 million of the term loan and other obligations. Time reported $1.2 billion in long-term outstanding debt as of June 30.
"This is a company that's going to continue to have leverage issues, debt issues and balance-sheet issues," Bloomberg Intelligence analyst Paul Sweeney said in an interview. "This is the first step to try to relieve some of that pressure."
Time spokesman Greg Giangrande declined to comment.

Weakness in print and other advertising revenue has plagued Time as the medium has lost readers to online and other competition. The magazine owner said in April it was sticking with its web strategy rather than selling itself.
"We have a real opportunity to be aggressive in reengineering the cost structure of the company," Chief Executive Officer Rich Battista said at the time, adding that he was committed to retaining stalwart brands including Time, Fortune and Sports Illustrated. The company is also exploring a sale of some smaller publications to concentrate on larger titles, he said in July.
Spun Out
Once part of Time Warner Inc., Time Inc. was spun out as a separate unit in 2014, a move that skyrocketed debt to $1.37 billion from $38 million and worried investors that a singular focus on magazines could hinder growth prospects.
Those fears are still alive, as consensus estimates point to another two years of declining adjusted earnings. That could force Time into a restructuring unless it reduces debt, Sweeney said. With a leverage ratio of 6.5 times, Time is well above the two-to-three times area that most print publishers aim to achieve, he said. 
Time cut 381 jobs in June, marking the start of an 18-month transformation strategy that should yield annualized savings of $400 million, it said in a June 30 filing. Cost cuts and strong digital advertising should offset soft print advertising in the third quarter, it said in a filing Friday. 
Moody's Investors Service on Friday said it expects Time's strategic plan to "reverse the negative trends for the company" with improvements starting to show in 2019. 
S&P Global Ratings, which cut Time's credit rating just three days ago, said in a Friday report that it expects the company to maintain enough liquidity to fund its transformation and investment needs. S&P rates Time's new bonds at B, five steps into junk, while Moody's rates them at an equivalent B2.
Before it's here, it's on the Bloomberg Terminal.
LEARN MORE