Five Things You Need to Know to Start Your Day
Get caught up on what's moving markets.
By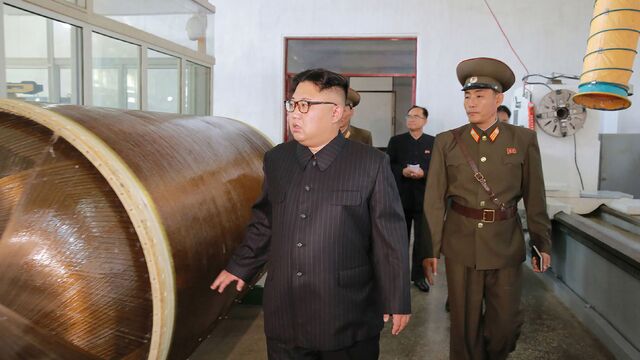 Want to receive this post in your inbox every morning? Sign up here
North Korea ups the rhetoric, it's PMI day, and a big weekend for Europe beckons. Here are some of the things people in markets are talking about today.
Trump vs Kim
North Korea reacted to President Donald Trump's latest sanctions, announced yesterday, with Kim Jong Un warning of the "highest level of hard-line countermeasure in history." The country's foreign minister suggested this could include testing a hydrogen bomb in the Pacific. Asian stocks closed slightly lower into the weekend following the increase in tensions. 
PMI day
A Composite Purchasing Managers Index for the euro area jumped to a four-month high of 56.7 in September, according to IHS Markit. The reading, which was well above the expected 55.6, was driven by a strong performance in France and Germany. U.S. manufacturing and services PMIs are due to be released at 9:45 a.m. Eastern Time.
May speech, German election
U.K. Prime Minister Theresa May will give a much-anticipated speech in Florence, scheduled for 9:15 a.m. ET, in which she is expected to suggest a post-Brexit transition period to ease the U.K.'s exit from the European Union. The address is seen as an attempt by the prime minister to reboot the negotiating process, which has made little progress to date. On Sunday, Germans go to the polls in a national election that is expected to return Angela Merkel's party as the largest once again, but without a majority, meaning she will need coalition partners to form a government.
Markets flat
Yesterday's S&P 500 retreat from record highs coupled with increasing tensions in the Korean peninsula have put something of a damper on markets today. Overnight, the MSCI Asia Pacific Index slipped 0.2 percent, while Japan's Topix index closed 0.3 percent lower. In Europe, the Stoxx 600 Index was broadly unchanged at 5:50 a.m., with S&P 500 futures dropping 0.2 percent. The 10-year Treasury yield was at 2.257 percent and gold was just under $1,300 an ounce. 
Health care repeal
Time is running out for the GOP to pass its repeal of Obamacare, and there are still four Republicans not onside with the proposed deal which needs to be passed by Sept. 30 to avoid a Democrat filibuster. The Republican plan is seen to have very uneven effects across different states, with New York losing the most federal funding, and Mississippi having the biggest gain.
What we've been reading
This is what's caught our eye over the last 24 hours.
Before it's here, it's on the Bloomberg Terminal.
LEARN MORE