Fed's Williams Says 2.5% Funds Rate About the `New Normal'
By and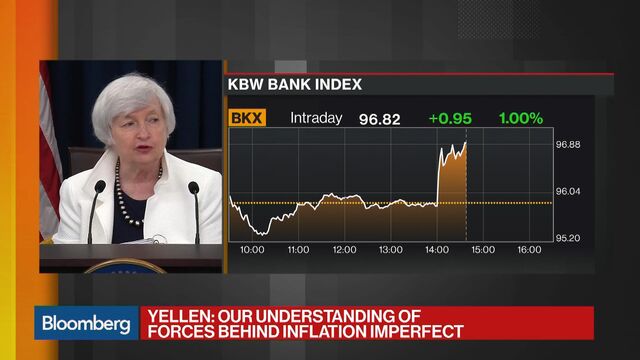 Federal Reserve Bank of San Francisco President John Williams said he expects "gradual rate increases" over the next couple of years, with one possibly as early as December.
"The pace at which that happens and exactly the contour of that will depend on how the economy progresses," Williams told reporters Friday in Zurich. "My own view is that 2.5 percent is about the new normal" for the Federal Funds rate.
The U.S. central bank announced plans earlier this week to begin slowly shrinking its $4.5 trillion balance sheet in October and published forecasts showing that officials still expect to raise interest rates for a third time in 2017, with three more quarter-point hikes penciled in next year.
"Although I do expect us to need to raise rates gradually over the next couple of years, it's not like we need to raise rates a lot over the next couple of years," Williams said, adding that the pace "will depend on how the economy progresses."
Williams said that in the event the U.S. economy under-performs significantly, the Fed's first move "would be to cut interest rates and hopefully articulate clearly our views on why we're cutting interest rates and how long we expect to keep them low."
Fed officials are counting on steady growth and low unemployment to raise inflation closer to their goal, which would support their policy of gradual tightening through interest-rate increases and a reversal of quantitative easing.

Unemployment has declined and stood at 4.4 percent in August, which is below the Fed's estimate for the level consistent with price stability over the longer run. Despite this progress, inflation has been disappointingly weak. After briefly poking above the Fed's 2 percent goal earlier this year, the personal consumption expenditures price index fell to 1.4 percent in June and July.
Williams, a former head of research for Chair Janet Yellen when she was chief of the San Francisco Fed, does not vote on monetary policy this year. Viewed as a policy centrist, he is also well-known for his work showing that the interest rate level that neither stokes nor slows growth has declined.
— With assistance by Andrew Atkinson, and Lorenzo Totaro
Before it's here, it's on the Bloomberg Terminal.
LEARN MORE