Exactly How Many Times Did Trump Talk About Sovereignty?
UN speech analysis shows concept appeared a staggering 21 times
By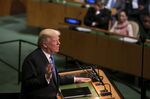 The United Nations General Assembly is called a forum for debate but history shows it's more of a soap box. Enter Donald Trump.
Occupying the second speaker spot reserved for the U.S. president, he delivered a blistering vision that put America front and center. Sprinkled throughout was the idea "to respect the interests of their own people and the rights of every other sovereign nation."
"Sovereign" or "sovereignty" made 21 appearances in Trump's speech, compared to just six times across all 10 other Group of 20 leaders who spoke at the UN this week, according to an analysis by Adam Tiouririne, a leadership communication adviser at Logos Consulting Group.
That left French President Emmanuel Macron as the poster boy for multilateralism, rejecting a "survival of the fittest'' narrative.

Trump mentioned the U.S. 38 times. No other G-20 leader referenced their own nation as often (except for Justin Trudeau, but that was almost exclusively to bemoan Canada's treatment of its indigenous peoples).
The "America First" rhetoric not only jarred with Trump's global counterparts but also with the UN speeches of his two predecessors in office. Trump used a group of words relating to collective action, like "together" and "global," less frequently than all but one of Barack Obama's eight addresses and less frequently than four of George W. Bush's. Inversely, he referenced the U.S. far more frequently than Obama or Bush ever did.

A deeper analysis reveals a shift in geopolitical importance. Whereas last year Syria held the lead with 50 total mentions, North Korea rocketed up from 17 mentions in 2016 to 90 this year. Forty-two of those belonged to Japanese Prime Minister Shinzo Abe, who focused heavily on the regime of Kim Jong Un, which just this past month fired two missiles over Japan's territory.
"The list of things I would have liked to raise here is long indeed - our contributions towards the rule of law; our determination to undertake the Paris Agreement in a steadfast manner; our policy of addressing global infrastructure demand through quality investments… However, I have no choice but to focus my remarks on a single issue, that of North Korea."
South Korea's President Moon Jae-in understandably had the second-most mentions of North Korea (22) but was generally more measured in his rhetoric than Abe, arguing that the nuclear crisis should be managed "in a stable manner so that tensions are not escalated too much or peace is not destroyed by accidental military clashes."
While Trump may have made headlines for calling Kim Jong Un "rocket man" and threatening to "totally destroy" North Korea if provoked, he ultimately mentioned another nuclear pariah state more often, contributing 12 of the G-20's 22 Iran mentions.

The global economy remained the most-discussed topic among G-20 leaders, with terrorism closing the gap from 2016, following a year with several high-profile attacks in the U.K. and France. 

The roughly unchanged number of mentions for climate-related issues is all the more surprising considering Trump's recent decision to pull the U.S. out of the Paris Accord. That is, unless the assembled G-20 leaders are hoping quiet diplomatic pressure will prove more effective at changing Trump's mind than public rebukes from the UN dais.
Note on methodology: Prepared English-language statements were used, in order of appearance, for Brazilian President Michel Temer, U.S. President Donald Trump, Turkish President Recep Tayyip Erdogan, European Council President Donald Tusk, Japanese Prime Minister Shinzo Abe, British Prime Minister Theresa May, Italian President Paolo Gentiloni, South African President Jacob Zuma, South Korean President Moon Jae-in, and Canadian Prime Minister Justin Trudeau. Transcripts of live English translations were used for: French President Emmanuel Macron and French sections of Canadian Prime Minister Justin Trudeau's remarks. Transcripts for UN speeches by former U.S. Presidents Barack Obama and George W. Bush are from the National Archives.
Before it's here, it's on the Bloomberg Terminal.
LEARN MORE