Trump Praises Erdogan for 'High Marks' Amid Crackdown Concerns
By and
U.S president met with Erdogan on sidelines of UN Assembly

Trump says Turkey, U.S. closer than 'we've ever been'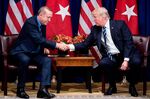 U.S. President Donald Trump heaped praise on Turkish President Recep Tayyip Erdogan Thursday, comments that came amid international condemnation of Erdogan's crackdown on political dissent and just months after Turkish security officials beat up protesters during a visit to the U.S.
Trump said it was "a great honor" to host Erdogan Thursday for a meeting on the sidelines of the United Nations General Assembly in New York. He said that the Turkish president "is becoming a friend of mine" and that "he is running a very difficult part of the world."

"Frankly he's getting very high marks," Trump said, sparing Erdogan any public admonition over international concerns about election violations and human-rights abuses. "He's also been working with the United States," Trump said. "We have a great friendship and the countries -- I think we're right now as close as we've ever been." Trump added that "a lot of that has to do with a personal relationship."
After a failed coup last year, Erdogan gained sweeping powers in April after a close referendum that critics alleged was fraudulent. A Council of Europe agency has put Turkey on its watchlist, saying crackdowns on opponents have compromised human rights and the rule of law. Erdogan also has detained or fired thousands of people under suspicion they were part of the coup attempt.
Turkey's army has been fighting Islamic State jihadists and Kurdish militants in northern Syria. Erdogan, speaking this week at the Bloomberg Global Business Forum in New York, said Turkey is prepared to send more troops into Syria. Still, Erdogan's government increasingly has been working with Russia and Iran on stabilization efforts that may bolster President Bashar al-Assad.
— With assistance by John Micklethwait, Selcan Hacaoglu, Firat Kozok, and Onur Ant
Before it's here, it's on the Bloomberg Terminal.
LEARN MORE