Trudeau Pitches 'Progressive' Trade as EU-Canada Pact Kicks In
By
Champagne says CETA is the 'gold standard' for trade

Juncker says deal represents what EU wants trade policy to be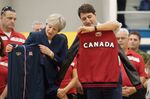 The Canada-EU trade pact is kicking in after a series of delays, reducing an estimated 9,000 tariffs as leaders hail the deal as a boost for globalization at a time of political unrest.
The majority of the accord, known as CETA, took effect Thursday, though key elements -- such as controversial investor-state dispute provisions -- are still subject to nation-by-nation ratification that could take years. The Canadian government nonetheless is holding the deal up as an example.
"This is the most progressive trade deal in the world, this is the gold standard," Canadian Trade Minister Francois-Philippe Champagne said in a telephone interview Wednesday. "Trade is a march to the top, not a race to the bottom."
European Commission President Jean-Claude Juncker said the deal encapsulates what Europe wants its trade policy to be, while Canadian Prime Minister Justin Trudeau praised the deal while speaking to the Bloomberg Global Business Forum in New York on Wednesday.
"We need to now make that next step of promoting a trade agenda by talking about the progressive side of the trade agenda," Trudeau said. "That doesn't mean just making a progressive case for trade, it means actually putting forward progressive trade deals."
Ratification, Brexit
Champagne acknowledged that ratification could take years, while the European Commission said in a statement that it will work with EU member states and Canada to ensure "smooth and effective implementation" of the accord.
Trudeau and U.K. Prime Minister Theresa May, during a meeting this week in Ottawa, said they will use CETA as a basis for an ongoing trade relationship between the countries when the U.K. leaves the EU. The U.K. is Canada's fifth-largest trading partner, and its biggest EU trading partner.
"We will have a free trade with Europe and Britain tomorrow, and that is well understood," Champagne said in the interview, saying he's discussed next steps with British Trade Secretary Liam Fox. "For them it is very important as well, because we are a very important trading partner for them."
Canada has proposed many of the elements of CETA in talks to revise the North American Free Trade Agreement, which remain in early stages and haven't yielded major breakthroughs after two rounds of negotiations.
Bilateral trade in goods between the EU and Canada totaled 63.5 billion euros ($75 billion) in 2015, according to the European Commission. The EU has estimated the accord would boost EU economic output by about 12 billion euros a year and increase EU-Canadian trade by about a quarter. "CETA is a modern and progressive agreement, underlining our commitment to free and fair trade based on values," European Trade Commissioner Cecilia Malmstrom said in a statement.
— With assistance by Greg Quinn, and Jonathan Stearns
Before it's here, it's on the Bloomberg Terminal.
LEARN MORE