South Korean President Calls For Eased Tensions Over Nuclear Crisis
By
Moon Jae-in offers more tempered tone after Trump's remarks

In earlier speech, Trump threatened to destroy North Korea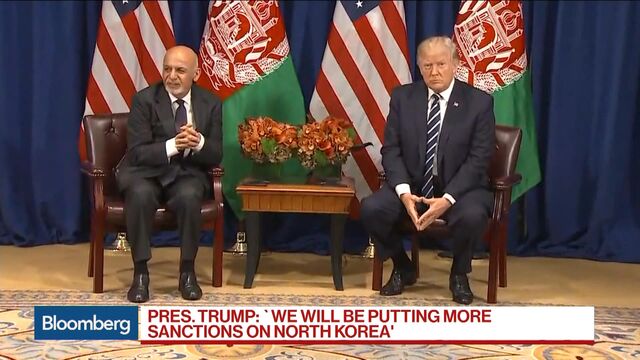 South Korean President Moon Jae-in made a plea at the United Nations to scale back tensions with North Korea, warning of accidental war from the same podium where President Donald Trump threatened two days before to "totally destroy" Kim Jong Un's country.
"We should manage the North Korea nuclear crisis in a stable manner so that tensions are not escalated too much or peace is not destroyed by accidental military clashes," Moon said on Thursday at the U.N. General Assembly's annual debate.
While Moon demanded North Korea "stop its reckless choice" of pursuing nuclear weapons and ballistic missiles, his speech was devoid of the inflammatory rhetoric that marked Trump's remarks on Sept. 19, as well as comments to reporters from North Korea's foreign minister, who likened Trump's threat to the "sound of a dog barking."
South Korea's capital, Seoul, is within range of the hundreds of artillery guns that line North Korea's border, and would likely be devastated in the event of a war. Moon, who has promised to seek talks with North Korea has cautioned the U.S. that his country ought to have the final say on any military action against the Kim regime.
In his speech Sept. 19, Trump referred to Kim as "Rocket Man" and threatened to "totally destroy" the country if it attacks the U.S. or its allies. In response, North Korean Foreign Minister Ri Yong Ho said he felt "sorry for his aides" when asked about the moniker.
"If he was thinking he could scare us with the sound of a dog barking, that's really a dog dream," Ri Yong Ho said in televised comments to reporters Wednesday in New York, where he is attending the United Nations General Assembly.
Read More: Trump Vows New Sanctions on North Korea Over Weapons Program
Trump told reporters Thursday that the U.S. will be putting more sanctions on North Korea. National Security Adviser H.R. McMaster told CNN Thursday morning that Trump is taking the steps to try to resolve the problem "short of war." He added that the announcement will come as he meets later in the day with Moon and Japanese Prime Minister Shinzo Abe.
Last week, the UN Security Council agreed to a set of new sanctions including banning textile exports from the country and capping imports of refined petroleum as a way to punish Pyongyang for conducting its sixth and most powerful nuclear test Sept. 3.
— With assistance by Margaret Talev
Before it's here, it's on the Bloomberg Terminal.
LEARN MORE