Snap Spectacles Hardware Lab Cuts Some Jobs, Changes Leadership
By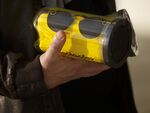 Snap Inc.'s lab for making hardware, including its Spectacles video-camera glasses, cut some jobs Thursday morning after changing leadership earlier this month, according to people familiar with the matter.
Snap confirmed that Steve Horowitz, who was in charge of the lab, was moved to a role in a different part of the company. The lab's new leader is Mark Randall, who previously worked under Horowitz. About a dozen people lost their jobs, according to a person familiar with the matter, primarily in marketing roles related to the lab. Snap, which owns the Snapchat social-media mobile application, didn't immediately have a comment on the cuts.
The Los Angeles-based company, which went public earlier this year, made the case that it was more than just an app maker, saying that it would change the way people create media by creating cool camera products, too. The first of those products was Snap's Spectacles glasses, which take circular video from a first-person perspective for sharing later.
Spectacles were surrounded by hype when first introduced last year, with long lines forming around the U.S. to buy them from exclusive pop-up vending machines. But their sales so far haven't generated significant revenue for Snap. The company's stock has declined 19 percent since its March 1 IPO.
Before it's here, it's on the Bloomberg Terminal.
LEARN MORE