Russia Warns It May Retaliate Against U.S.-Backed Syria Fighters
By
Russian special forces supporting Syrian troops, Moscow says

Pentagon cites military meeting with Russians to avert clash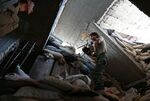 Russia issued an unusually blunt warning to the U.S. that it will retaliate against American-backed fighters in Syria, accusing them of firing on government troops battling for territory in a strategic region bordering Iraq.
Russian special forces are fighting there alongside the Syrian soldiers, and any further attacks on them "will immediately meet with retaliation," Defense Ministry spokesman Igor Konashenkov said Thursday. The ministry said Syrian troops twice came under massive mortar and artillery fire from positions held by America's Kurdish allies.
If that happens again, "the firing positions in those areas will be destroyed with all the arsenal at our disposal," Konashenkov said, adding that a formal warning has been delivered to U.S. regional headquarters in Qatar.
Russian, U.S., Arab and European diplomats attended a meeting on Thursday at the United Nations in New York to discuss the crisis in Syria, which has brought the former Cold War rivals to the brink of confrontation. A peace agreement is needed that "guarantees that the country remains one, united," said EU foreign policy chief, Federica Mogherini. "Partition of Syria would lead to more unrest."
Euphrates Crossing
Two years after Russia's military intervention in Syria reversed the course of the civil war in favor of Bashar al-Assad's regime, the Kremlin is backing a campaign by the Syrian president to regain control of as much of the country as possible. That's provoked a standoff with the U.S., which is seeking to expand Syrian territory that's under the control of its local allies, and to counter the influence of Assad's other main supporter, Iran.
The risk of a direct clash escalated in the past week as Russian-backed Syrian forces fighting against Islamic State crossed the river Euphrates, after breaking an almost three-year jihadist siege of the city of Deir Ezzor. U.S.-supported Kurdish forces broke off from their fight for the Islamic State capital of Raqqa farther north and raced to the Deir Ezzor area, which is rich in oil deposits as well as a key gateway to Iraq.
Russia's air force is continuing to provide support to Syrian government troops around Deir Ezzor, Deputy Foreign Minister Gennady Gatilov told the UN meeting.
The Deir Ezzor region could allow Iran a land corridor to funnel arms deliveries all the way to its Hezbollah allies in Lebanon, a prospect that would bolster its regional clout and has alarmed U.S. allies Israel and Saudi Arabia. Still, Russia's dominant position in Syria has already led to a shift in the balance of forces, with Turkey and Saudi Arabia, once key backers of the rebels fighting Assad, now cooperating with the Kremlin.
Russian Foreign Minister Sergei Lavrov told the UN General Assembly on Thursday that "there are considerable additional efforts needed to stabilize the situation in the region." But he said there are grounds for "cautious optimism" in Syria, and predicted that "de-escalation zones" that have eased the fighting in parts of the country will create the conditions for direct peace talks.
Al-Qaeda Attack
Last week, it was the U.S. that was accusing Russian forces of targeting its local allies in the area around Deir Ezzor.
Military officials from the U.S.-led coalition held a face-to-face meeting with Russian counterparts this week, Colonel Ryan Dillon, a spokesman for the coalition, told a Pentagon briefing on Thursday. The purpose of talks was to "adjust and expand deconfliction measures," and they covered issues including "the need to share operational graphics and locations to ensure the prevention of accidental targeting or other possible frictions," he said.
Russia says that rebels backed by the U.S. discharged water from dams north of the Euphrates to hamper the crossing by Syrian troops, who were using Russian-made rafts. It has also accused the U.S. of instigating a major attack by the former al-Qaeda wing in western Syria, to distract the Syrian army from its eastern campaign.
Lavrov said that group, "which for some reason is left alone by the members of the U.S. coalition," should be targeted along with Islamic State as part of joint efforts aimed at "wiping out the last terrorist hideouts."
The U.S. has sought to back more moderate rebels in Syria and denies any ties with jihadist groups, including al-Qaeda affiliates that are classified by the State Department as terrorist organizations.
Before it's here, it's on the Bloomberg Terminal.
LEARN MORE