Business
Ronaldo Is Hawking One of the World's Riskiest Derivatives
By
Real Madrid star partners with Cyprus-based online brokerage

CFD firms targeting soccer clubs as EU considers clampdown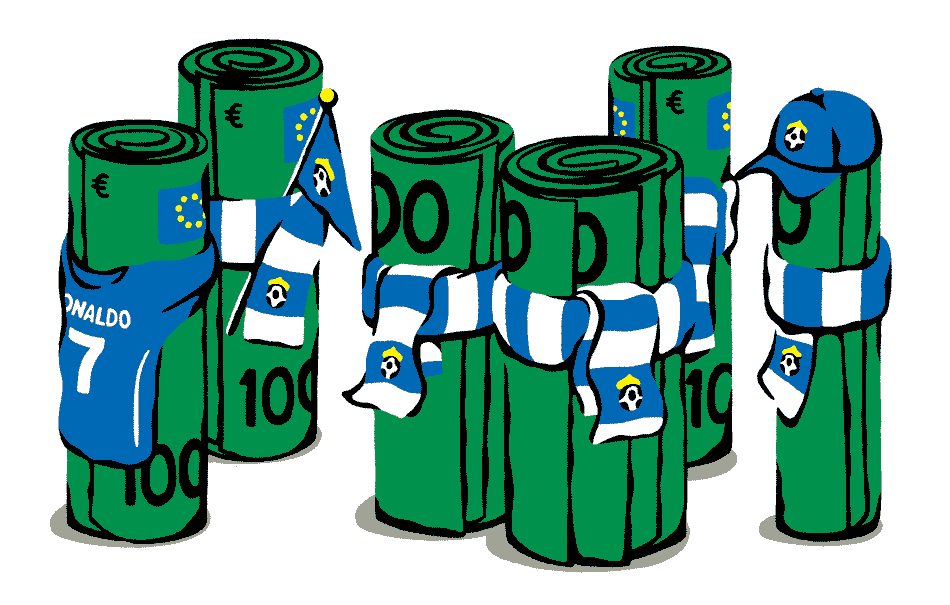 Last month, Cristiano Ronaldo sent a short message to his 59 million Twitter followers.
"Happy with my new partnership with @EXNESS," the Real Madrid striker and world's most famous soccer star wrote. He also retweeted a statement from a firm called Exness Group, in which he praised how it "gives back to the world," offers the "highest quality of services" and fosters a "socially conscious culture."
European regulators may disagree. Ronaldo's new partner, an online brokerage based in Cyprus, deals in contracts for difference, or CFDs, complex derivatives that officials across the continent are seeking to curb because of the risks they pose to retail investors. Exness offers leverage, or borrowed funds, of as much as 500 times traders' deposits, a feature that rule-makers say helps people lose money on market bets they don't understand.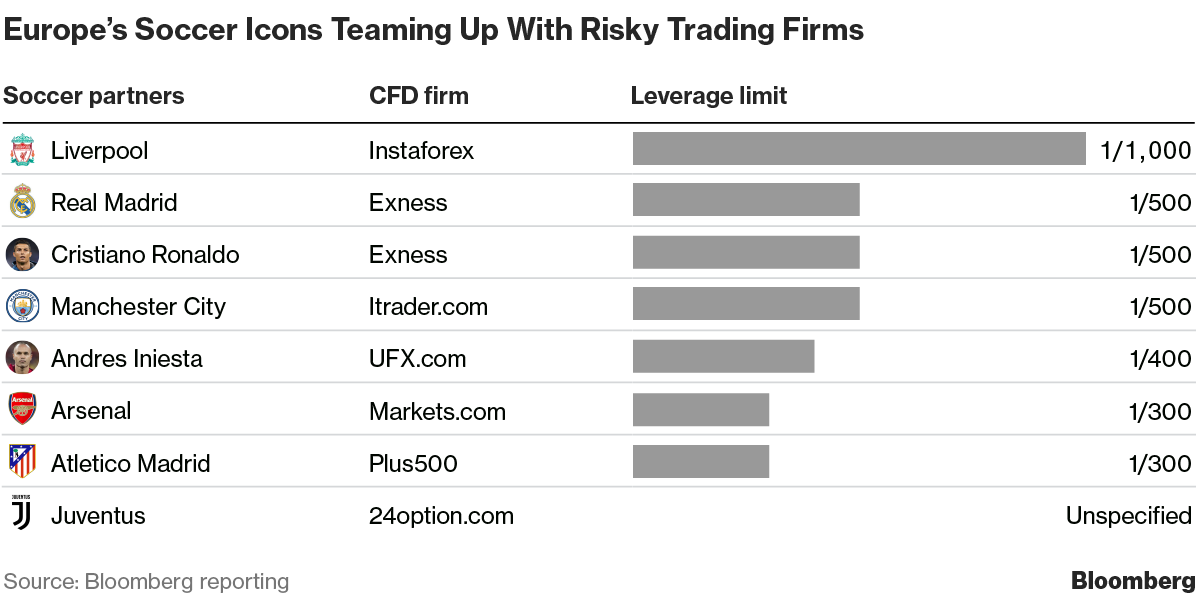 Real Madrid and Ronaldo, who has 21 million more Twitter followers than U.S. President Donald Trump, aren't alone in signing deals with CFD firms. Some of the biggest soccer clubs in Europe have links to brokerages similar to Exness, ranging from Real Madrid rival Atletico de Madrid to Manchester City and Liverpool in England, even as regulators impose advertising bans and consider capping the risks CFD investors can take.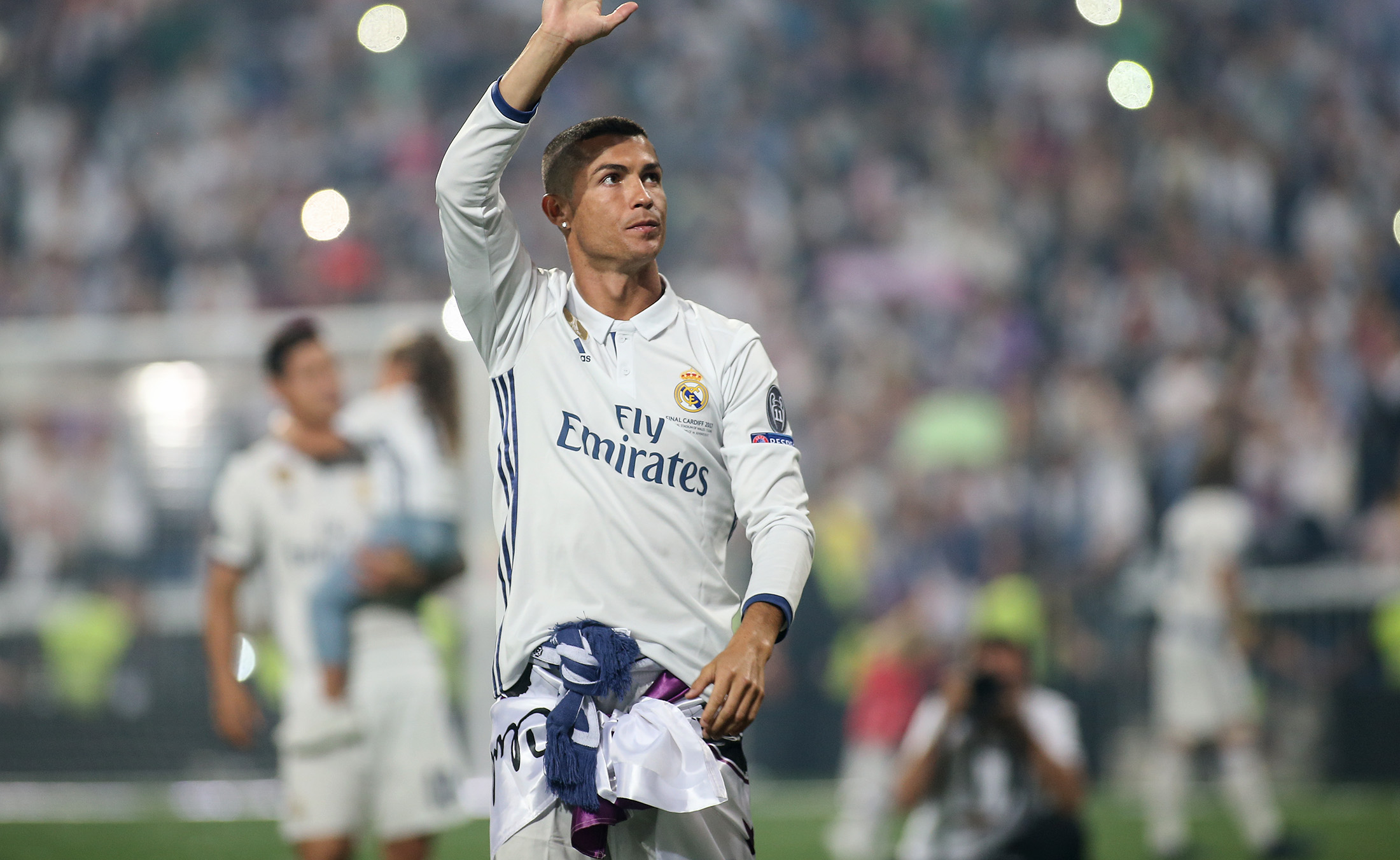 "One has to question the legitimacy, credibility and morality of teams endorsing products around which there are some serious regulatory misgivings," said Simon Chadwick, a professor of sports enterprise at the University of Salford in Manchester. "Clubs and players need to become more mindful of the ramifications their commercial partnerships can have."
Read more: Why 'contracts for difference' are under scrutiny - a Q&A explainer
Pedro Corrales Alvarez, a spokesman for Real Madrid, declined to comment. An official at Ronaldo's firm referred inquiries to Marisa Mendes, who didn't respond to emailed questions. Exness said in a statement that arrangements between brokerages and top-tier soccer clubs are common and that the firm includes appropriate warnings in its customer marketing. Its sponsorship strategy, it said, "aligns our business with organizations and individuals that stand for excellence, fair play and being the best in what they do."
Opaque Speculation
CFDs, called "a volatile form of gambling" by an Irish judge in 2014, make up one of the last bastions of opaque, lightly regulated financial speculation in Europe. The contracts, which allow investors to bet on the direction of stocks, bonds, currencies and commodities without buying the underlying assets, aren't traded on public exchanges and are largely prohibited for retail customers in the U.S. They've surged in popularity across Europe since 2010, triggering concerns of regulators, who say customers don't grasp the risks involved.
While London-based companies have long dominated the CFD market in Europe, a different kind of player is attracting attention. These are small, privately held firms that offer high-risk trading not available elsewhere. They often get a license from regulators in Cyprus, a European Union nation of about 1 million people.
Exness is a case in point. It was founded in 2008 by Chief Executive Officer Petr Valov, 32, and Igor Lychagov, 35, who listed their nationalities and residences as Russian in 2014. Both now have Cypriot citizenship as well and home addresses in Limassol, on the Mediterranean island's south shore, a recent filing in Cyprus shows.
The firm offers traders in the EU leverage of as much as 500 times their deposits, many multiples of what some regulators say is appropriate for retail investors. Some customers outside the EU can access what Exness says on its website is "unlimited leverage.''
Regulators from the Central Bank of Ireland to Polish markets watchdog KNF are now circling the CFD industry, and several countries have imposed leverage caps, limits on client losses and marketing restrictions. Cyprus introduced rules last year requiring CFD firms to offer a default leverage amount of no more than 50 times and limit client losses. Still, investors can get more if they ask for it and pass a firm's "appropriateness test," according to a statement from the regulator, known as CySEC, which declined to comment further.
The European Securities and Markets Authority said it's concerned that those local measures don't go far enough and is considering EU-wide rules for the derivatives.
"It remains a lightly regulated, highly nontransparent pool of speculative investments, leveraging upon the weaknesses of those who don't truly understand the risks they're taking,'' said Shaen Corbet, a former CFD trader who teaches finance at Dublin City University.
'Not Appropriate'
In Spain's soccer-obsessed capital, markets regulator Comision Nacional Del Mercado de Valores imposed advertising restrictions on CFDs in March. Ads must warn of the derivatives' complexity and disclose that the agency believes they're "not appropriate" for retail investors. Neither Real Madrid nor Ronaldo mentioned those concerns in their statements announcing the deals, though the Exness website carries this disclaimer: "Trading CFDs and generally leveraged products involves substantial risk of loss and you may lose all of your invested capital."
CFD users in Spain lose money 82 percent of the time, according to a study by the regulator that found about 31,000 traders in the country lost 142 million euros ($170 million) over a 21-month period ended in September 2016, including transaction costs. Other regulators have reported a similar percentage of losing bets.
Javier Paz, an analyst with Aite Group LLC in Boston who tracks the industry, estimates that European traders have lost about $2.1 billion on the derivatives over the past 15 years.
"This is like a casino, and it looks very dangerous," Patricia Suarez, president of the Association of Financial Users in Madrid, which campaigns against abusive banking products, said of CFD trading. "If I were Cristiano Ronaldo, I would be very careful about promoting this."
One reason for the losses, regulators say, is the borrowed funds that CFD firms offer investors to magnify their bets. The leverage allows customers to deposit a small percentage of the total value of their trades. The CFD firm funds the remainder of the bet at a specified rate of interest. Trading this way can result in inflated profits, but the client can lose more than his deposit if the market moves even slightly in the wrong direction.
Margin Call
A trade can work like this: A client with $1,000 in his account bets the euro is going to gain against the U.S. dollar. The CFD firm offers leverage of 400 times, which turns the client's deposit into a notional bet of $400,000. If the euro climbs 0.1 percent, the trader gains $400. If the currency falls the same amount, he loses $400, or 40 percent of his deposit. But if the euro drops 1 percent, the investor loses his $1,000 and ends up owing $3,000.
Most CFD firms will make a margin call after a 40 percent loss and ask for more funds or wind down a trade, according to people familiar with the industry. Sometimes, though, events move too quickly and traders can wind up owing money. When that happens, a firm is more likely to forgive some of the debt and encourage an investor to resume trading than it is to go to court, the people said.
Exness said in its statement that it offers what it calls "negative balance protection," which ensures that customers can't lose more money than they have in their account. It also said it conducts "appropriateness" tests to determine how much leverage to offer.
"Exness complies fully with the new and evolving regulations in the jurisdictions that it operates and have adjusted our leverage policy in line with recent guidelines," the company said. "We take the financial security of our clients very seriously."
'Relentless Passion'
Ronaldo stands front and center in a group of grinning Real Madrid players on the homepage of Exness's website. In the upper-right-hand corner is the team's emblem, adorned with the jeweled crown that shows the patronage the club received from Spain's King Alfonso XIII in the early 20th century. The words over Ronaldo's head: "Connected by a relentless passion to be the best in our fields."
Sponsorship deals with Real Madrid can be expensive. Emirates, the Dubai-based airline, reportedly pays the club tens of millions of euros a year to emblazon its logo on players' jerseys. Ronaldo, a four-time winner of the Ballon d'Or trophy for the world's best soccer player, earned $35 million from endorsements last year, according to Forbes.
Exness may have plenty of cash to spend. The firm has almost 50,000 monthly users, compared with just a few hundred in 2010, and monthly trading volume hit a record $314 billion this year, according to its website. Clients' funds have soared to $42 million, while the firm's own funds have almost doubled in two years to $152 million, company documents show.
Liberty Reserve
Exness has come a long way since its early days, when it processed some transactions through money-transfer firm Liberty Reserve SA. Federal prosecutors in New York alleged in 2013 that Liberty, based in Costa Rica, enabled criminals to launder more than $6 billion in proceeds from crimes ranging from narcotics trafficking to child pornography. The firm was shut down that year. Exness, which wasn't accused of any wrongdoing, was one of Liberty's most active users, moving about $249 million through its platform, the court filings allege.
The company said in its statement that it ended its commercial relationship with Liberty about five years ago and that its dealings with the company were in good faith.
"At the time, it was a well-known payment company with over a million customers and used by many of our competitors including other prominent EU licensed forex operators," the company said. "Exness was not aware of the activities later discovered by law enforcement, nor has it had any U.S. clients."
Exness said it doesn't accept payments from anonymous users and follows anti-money-laundering processes to identify customers and mitigate risk. Co-founders Valov and Lychagov declined through a company spokesman to comment.
'Typical Gambler'
Because many CFD traders don't remain active for long, mass marketing is vital for recruiting new customers, and soccer fans are an ideal target.
"There is a correlation between the profile of a typical gambler and the kinds of associations we see either through shirt sponsorships or partnerships,'' said Chadwick, the University of Salford professor. "You could sponsor the Royal Ballet, but people going to watch the Royal Ballet aren't predisposed necessarily toward gambling."
Other CFD firms share that view. Atletico Madrid is sponsored by Plus500 Ltd., a publicly traded brokerage that had to freeze its accounts temporarily in 2015 after U.K. regulators ordered a review of its anti-money-laundering controls.
FC Barcelona had a partnership until June with IronFX Global Ltd., a CFD firm that paid Cypriot regulators 335,000 euros in 2015 to settle allegations it had violated market regulations. Club captain Andres Iniesta announced a partnership in July with UFX.com, a brokerage licensed in Cyprus and the South Pacific island nation of Vanuatu that offers leverage of 400 times, its website shows.
Italy's Juventus FC is the official partner of 24option.com, another CFD firm. Cyprus fined its owner, Rodeler Ltd., 156,000 euros last year for noncompliance with anti-money-laundering rules and other regulations.
Arsenal Partner
In the U.K., one of the world's biggest CFD markets, Liverpool has a relationship with Cypriot-registered Instaforex, which offers leverage of 1,000 times and the chance to win a Lamborghini. Manchester City has a partnership with itrader.com, an online brokerage owned by a firm offering leverage of 500 times. Arsenal's "trading partner'' is Markets.com, an online brokerage also overseen in Cyprus that offers leverage of as much as 300 times.
A spokesman for Arsenal said the club has enjoyed a "successful partnership'' with the firm since 2014 and recently renewed its deal. Juventus partner 24option.com and Iniesta partner UFX.com both said they comply with the strictest rules set by regulators.
"Publicity by celebrities exists in all sectors, like watches, cars and shaving products, and ultimately, if the product isn't good enough, a famous face won't be enough to succeed in promoting it," Dennis de Jong, managing director of UFX.com, said in an email.
Spokesmen for the other teams and brokerages either declined to comment or didn't respond to inquiries.
French Crackdown
The U.K.'s Financial Conduct Authority said last year that it's considering a cap on leverage, banning the bonuses that some firms offer to encourage clients to open accounts and introducing more disclosure requirements. A spokesman for the regulator, which reiterated its concerns in June, declined to comment.
France has already taken action. Some of the biggest soccer clubs there, including Paris Saint-Germain and AS Monaco, had deals with Cypriot CFD firms. Those ended after the French highlighted them at a March 2016 press conference. The country also curbed non-print advertising of the derivatives late last year.
"Many investors, reassured by the trustworthy appearance of these companies' websites with their EU authorizations or sponsorship deals with major football teams, allowed themselves to be tempted," Marielle Cohen-Branche, ombudsman for the French regulator, wrote in her annual report in February.
Spanish regulators may have a tougher time. They'll have to compete with the local obsession about whether Ronaldo can help his club retain its titles.
"I don't think fans would be surprised or bothered by the Exness partnership," said Dae Hee Kwak, a professor of sports management at the University of Michigan. "Ronaldo and Real Madrid have nothing to lose."
— With assistance by Charles Penty
Before it's here, it's on the Bloomberg Terminal.
LEARN MORE