This Hedge Fund Investor Says China Bears Are Missing Something
By
Mark Yusko's Morgan Creek has invested in China since 1995

China's bad debt may be 40% smaller than bears estimate: Yusko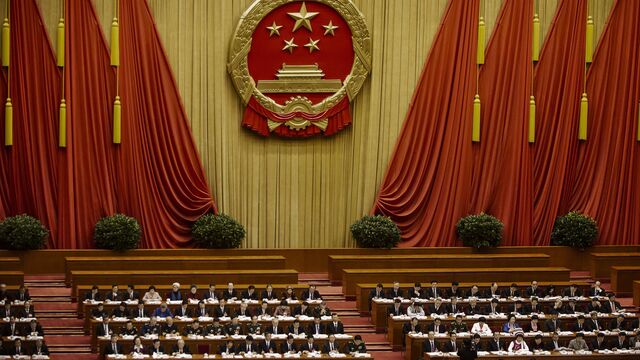 One hedge fund investor says Kyle Bass, Jim Chanos and other China bears are missing a key piece of the equation.
Global investors have underestimated the power of China's command economy, where leaders can cancel or forgive debts and control the currency, Mark Yusko, chief investment officer of Morgan Creek Capital Management, said in an interview. China's unique ability to control its market ensured that predictions of a yuan crash, a debt crisis and an economic hard landing didn't play out, said Yusko, whose Chapel Hill, North Carolina-based firm manages about $2.5 billion in private investments and hedge funds.
"Command economies function very differently. You can just make things happen," Yusko said in Shanghai, on the sidelines of the Access Alts Asia China-Global Alternative Summit. The magnitude of China's bad debt "has the potential to be 40 percent smaller than what Chanos and Kyle and all these other guys say, because they're not looking at the fact that there is this component of it which can just be canceled."
Hayman Capital Management's Bass disagrees: "In practice, Chinese government interests are not as easily aligned," he said in emailed comments. The ownership structure of banks and state-owned companies involves entities at different levels of the government.
"A wholesale write-off of bad debts will require a recapitalization of the Chinese banking sector," Bass said. This will "necessitate a large expansion of the Chinese central bank's balance sheet" and "an ultimate debasement of China's currency."
Bass, who made a fortune betting against U.S. subprime mortgages before the 2008 financial crisis, and Kynikos Associates Ltd.'s Chanos, who predicted the 2001 collapse of Enron Corp., are among investors who sounded the alarm about China's rising pile of bad debt. Bass also forecast a crash in the yuan, calling for a 30 percent devaluation in February 2016.
So far, predictions about the yuan haven't materialized as China's leaders crack down on capital outflows to stabilize the currency. Managers such as Corriente Advisors' Mark Hart have reversed course after getting burned on bearish wagers. The yuan has rallied more than 5 percent this year, at one time touching the strongest level in more than a year against the U.S. dollar.

Chanos said in emailed comments that "virtually every Chinese lender and borrower, as well as most observers, believes the Chinese government stands behind most debts. That is the problem, not the opportunity."
Yusko, who has invested in China since 1995, expected the currency to strengthen this year because of the balance of trade, he said. After this year's rally, the yuan may pull back in the short-term, while the dollar may be set for a temporary upswing, he said.
Leveraged bets by hedge funds and other large speculators against the U.S. dollar climbed to a four-and-a-half year high last week, CFTC data show.
"If you ask investors outside China about the renminbi, they get very nervous," Yusko said. "They say, it's a horrible currency, it's going to blow up and have to devalue 50, 60 percent, everybody should be shorting. And instead all of the other currencies, particularly the dollar, have crashed, and the renminbi's been very strong.''
Outspoken Bear
Bass, who has been among the most outspoken China bears, said losses in Chinese banks could be four times bigger than those suffered by American lenders during the global financial crisis. He did acknowledge that year that China will step in to save its banks, and the "renminbi will be the valve for normalization." Still, he maintained that the country had "the largest macro imbalance the world has ever seen."
In May this year, he said swelling assets in China's wealth management products were another sign of a looming credit crisis.
Yusko, who referred to Bass as a "friend," said he has invested with him for many years, though not "right this second."
Bass's flagship Hayman Capital master fund returned almost 25 percent last year on bets placed across global rates, currencies and commodities, Bloomberg reported in January.
"Look, Kyle's really smart, and Kyle could be right," Yusko said. "But we're just going to disagree on this right now." 
Yusko's arguments for what's different about a command economy are amplified by James Stent, who spent more than a decade serving on the boards of two Chinese lenders and wrote "China's Banking Transformation: The Untold Story."
"As one Chinese banker who works for an American bank said to me: 'In the West, money flees problems; in China, money flows to problems to solve them,'" Stent said in an interview in Hong Kong this week.
— With assistance by Enda Curran, and Alfred Liu
Before it's here, it's on the Bloomberg Terminal.
LEARN MORE