Big-Ticket Divorce Just One Reason Brazil's Rich Are Cashing Out
By and
Families, founders behind Azul, Magazine Luiza have sold stock

As Ibovespa rallies to record, IPOs are also picking up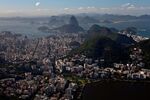 Brazil is seeing an uptick in share sales by some of its best-known business moguls after the benchmark stock index surged to an all-time high.
Tycoons in Latin America's largest economy have any number of reasons to want to cash out these days. Liquidity boosts and the record-setting rally pop to mind as the most obvious. At least one executive, serial airline entrepreneur David Neeleman, did so to pony up for a multi-million-dollar divorce settlement.
To longtime Brazil watchers, it recalls the go-go days when commodities were booming, scandal-clad Petrobras still sat atop the global oil industry and subprime had yet to morph into a dirty word. During a bruising two-year recession that followed, the country's gross domestic product shrank almost 10 percent and companies were more likely to buy back their own stock than sell. Now that the economy is showing signs of recovery, many are seeking to pump those shares back into the market to boost liquidity, said Joelson Oliveira Sampaio, a finance professor at Fundacao Getulio Vargas, a top business school in Brazil.
"When companies do this, they want to demonstrate better corporate governance, especially in a scenario with so many corruption scandals in Brazil," he said. "They want to signal that they can do better, giving more liquidity and shrinking the stake of controlling shareholders."
Ser, Magazine Luiza
Jose Janguie Bezerra Diniz, the billionaire founder of Ser Educacional SA, sold 400 million reais ($128 million) worth of shares on Sept. 15, reducing his stake to 59 percent from 70 percent. The controlling shareholders behind Magazine Luiza SA, the world's best-performing major retail stock, plan to sell about 500 million reais of stock on Sept. 27 after shares surged more than 3,600 percent in two years.
Neeleman, who founded JetBlue Airways Corp., had to seek special approval to sell about 57 million reais of equity in Azul SA before a lock-up period ended following the Brazil carrier's initial public offering in April. He told regulators some of the cash would go to his ex-wife.
Ser Educacional and Magazine Luiza declined to comment. Azul said in a statement that the share sale doesn't "change Neeleman's control and influence on Azul's day-to-day" operations.
Brazil's Ibovespa index has advanced 21 percent since the start of the second half, surging to a record earlier this week. It slid 0.4 percent to 75,694.63 as of 11:27 a.m. in Sao Paulo.
IPOs
The rally is also luring families of long-time closely held companies to sell. IPOs in 2017 have already surged to 12.5 billion reais, more than the three previous years combined. And at least one wealthy clan is cashing in. The Quartiero family, which owns Camil Alimentos SA, is planning a share sale at the end of the month.
As securities the world over rally, Brazil's gains are also boosting concern that a bubble may be forming. The surge in stocks that has pushed up the most popular exchange-traded fund tracking the country's shares has also brought up a score of hedgers.
"With interest rates falling, everyone is taking on more risk," said Florian Bartunek, chief investment officer at Constellation Investimentos & Participacoes Ltda. While he thinks the high volume of share sales should mute some asset-price overvaluation, "at some point we could face a bubble."
Before it's here, it's on the Bloomberg Terminal.
LEARN MORE