Design
A Folding Bike Helmet That Looks Good and Still Shields Your Brain
From helmets to water bottles, designer Carlos Ferrando wants to "give conventional products new meanings."
By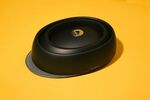 Carlos Ferrando launched Closca Design in Valencia, Spain, in 2013 to make foldable bicycle helmets. His first version was "aesthetically ugly," he says, so he retooled it in 2015. Now the look is more appealing, he says. The 40-year-old's design mission: To give "conventional products new meanings."
What do you want your helmet to do that conventional ones don't?
Our helmet normalizes the idea of wearing one as a fashion accessory. The rules that I used to design the product are the same rules that the wearer uses to understand the city. It's respect for urban aesthetics.

What motivated you to start your business?
My objective is to design a brand that inspires positive attitudes. When I started to bike when I was in university in Valencia, they called me a bum—riding a bike meant you didn't have enough money for a car. For me, a bike is emblematic of the future and of respect for others.
Will the helmet get thinner?
Yes. It's important to try to reduce what I call the mushroom effect. Normally helmets are 24 to 25 millimeters thick; ours is 22 to 23 because we use fiberglass. To make it even thinner would require new materials. That's not our responsibility—I use what's safe and on the market.
You've designed a water bottle that goes on sale in October. Is there a connection to the helmets?
It's about changing behavior in people who don't think about the environment. I estimate 90 percent of people follow others. My goal is to use design to make them aware of bottled water's impact on the environment.
What's next?
I'd like to do a shoe to encourage people who are sedentary because of pain to walk more. It would cost $2 million to bring to market. It has to be comfortable … and fashionable.
The Details
The Closca helmet retails for about $140 in the U.S. and €120 in Europe. Ferrando expects to sell 23,000 this year. He's in talks with European discount chains to market up to 50,000 units of a cheaper version he's developed. Ferrando expects to break even by early 2018.
Before it's here, it's on the Bloomberg Terminal.
LEARN MORE