Anthony Weiner Should Get at Least 21 Months in Prison, Prosecutors Say
By
Former Congressman pleaded guilty to sending explicit messages

U.S. urges judge to reject Weiner's request for probation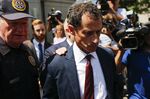 Anthony Weiner should serve 21 to 27 months in prison, rather than the probation sought by the disgraced former congressman and New York mayoral candidate, U.S. prosecutors said.
Weiner, who wrecked his marriage and political career in a series of sexting scandals, is set to be sentenced Sept. 25 after pleading guilty to sending explicit messages to a 15-year-old girl. The sentence recommended by prosecutors is in line with a plea agreement between Weiner and the government but isn't binding on the judge, who can give him as long as 10 years.
"Weiner, a grown man, a father, and a former lawmaker, willfully and knowingly asked a 15-year-old girl to display her body and engage in sexually explicit conduct for him online," prosecutors said in sentencing papers filed Wednesday in Manhattan federal court. "Such conduct warrants a meaningful sentence of incarceration."
Prosecutors said Weiner's history of non-criminal scandals tied to social-media exchanges with adult women shows a "dangerous level of denial and lack of self-control." Claims that he's changed can't be relied on, they said.
Video Chats
They agreed with Weiner that the girl, who isn't named in the court filing, initially contacted the politician on Twitter in January 2016 and "repeatedly suggested" they participate in video chats on Skype. They said no evidence was found of Weiner seeking to meet the girl in person, trying to contact any other minors or trying to find or download child pornography.
Still, the government argued, "this is not merely a 'sexting' case."
"With full knowledge that he was communicating with a real 15-year-old girl, the defendant asked her to engage in sexually explicit conduct via Skype and Snapchat, where her body was on display, and where she was asked to sexually perform for him," according to the government brief.
Weiner's case played a major role in the final days of the 2016 presidential election. A Federal Bureau of Investigation probe into Weiner turned up emails that had been sent to his wife, Huma Abedin, then a top aide to Democratic presidential candidate Hillary Clinton. 
On Oct. 28, former FBI Director James Comey sent a letter informing Congress that agents were reviewing the emails "to determine whether they contain classified information" relevant to a separate investigation of Clinton's use of a private email server while Secretary of State. Weiner and Abedin are seeking a divorce.
On Nov. 6, two days before the election, Comey sent a second letter to Congress saying the FBI had reviewed the emails on Weiner's laptop. "Based on our review, we have not changed our conclusions" against charging Clinton, Comey wrote.
Clinton's book on the campaign, "What Happened," came out last week. In it, she attributes some blame for losing the election to Comey's re-opening the email investigation in the final days of the campaign.
The case is U.S. v. Weiner, 17-cr-00307, U.S. District Court, Southern District of New York (Manhattan).
Before it's here, it's on the Bloomberg Terminal.
LEARN MORE