Economics
Spain Moves Against Catalan Separatists With Police Raids
By
Prime Minister Rajoy says he'll pursue crackdown to the end

Catalan vice president says Spain abusing fundamental rights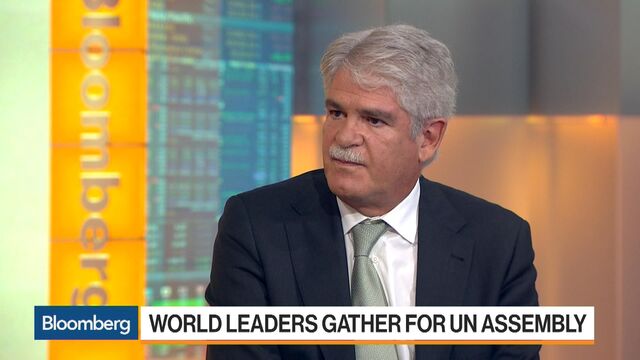 Spain's Civil Guard raided Catalan government offices including the economy and social affairs departments and a data center as Madrid moved to shut down preparations for an illegal referendum planned for Oct. 1.
Nine officials were arrested as part of an operation that is expected to continue throughout the day, a spokesman for the Guardia Civil said. Among those detained was Josep Maria Jove Llado, No. 2 in the economy department, a press officer for the Barcelona-based executive said in a text message. Officers also seized ballot papers prepared for the vote from a warehouse in a village 45 kilometers (28 miles) north of Barcelona where two more people were arrested, according to Europa Press.
"The government is doing what it has to do," Prime Minister Mariano Rajoy told the Spanish Parliament in Madrid Wednesday. "And we will keep doing that until the very end." Catalan separatist lawmakers walked out of the chamber in response to his comments.
Spain's premier is facing the biggest challenge to the constitution in more than three decades as elected officials in Catalonia try to force a rupture with the state. Separatist leaders have plans for mass demonstrations, potentially targeting export industries, if the vote is blocked and angry crowds were already gathering outside the regional economy department on Wednesday morning.
"The Spanish government has crossed the red line that separated it from repressive authoritarian regimes and has become a disgrace to democracy," Catalan President Carles Puigdemont said in televised statement flanked by his top officials, as he insisted the disputed vote would go ahead.

Read more, Catalan History of Grievance Leaves a Divided Spain: QuickTake
Spanish Foreign Minister Alfonso Dastis on Tuesday accused the separatists of using "Nazi" tactics, after they put up campaign posters featuring pictures of local mayors who have refused to collaborate with the referendum process. Some mayors complained they'd been harassed by activists as a result.
"To think that the government is comparing a peaceful, democratic movement to the Nazi regime shows how disproportionate this is," Catalan foreign affairs chief Raul Romeva said in an interview in Madrid. "It's an insult to the real victims of Nazism. The Spanish government is making a grave mistake."
Financial Controls
Spanish law enforcement has been closing in on separatist activists over the past week, after the Catalan Parliament legislated earlier this month for the referendum and approved the foundations for a Catalan republic in defiance of Spain's Constitutional Court.
On Tuesday, the Civil Guard searched the offices of Unipost, a courier firm in Terrassa near Barcelona, and seized letters suspected of being related to the ballot plans. They have also raided several printworks in the region hunting for ballot papers. The Spanish interior ministry said Wednesday it has canceled all vacation for officers involved in enforcing the referendum ban.
"We are in a very exceptional situation," Catalan Vice President Oriol Junqueras said in an interview with Catalunya Radio. "There are no guarantees that fundamental rights will be respected."
Budget Minister Cristobal Montoro signed an order late on Tuesday to prevent the Catalan government from borrowing money, tightening financial controls on the administration. Banks operating in region have already been told not to process any payments from the regional government without the approval of officials in Madrid. The measure aims to prevent Catalan officials from using public funds to pay for the referendum.
— With assistance by Maria Tadeo
(
Updates with comment from Catalan president in fifth paragraph.
)
Before it's here, it's on the Bloomberg Terminal.
LEARN MORE