Senators' Deal Makes Tax Cuts More Likely, May Limit Their Scope
By and
Pact would allow for tax cuts that increase federal deficit

Under budget rules, deep cuts may have to be set to expire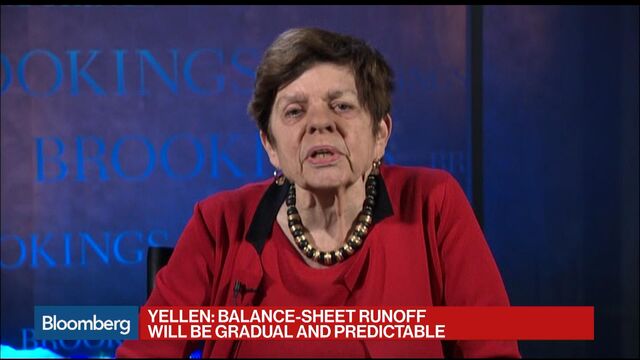 Senate Republicans say a preliminary budget deal this week that will allow for a major, deficit-increasing tax cut improved their chances of passing a tax bill that's planned for consideration this fall.
But at the same time, the agreement -- announced Tuesday night in a joint news release by two members of the Senate Budget Committee -- departs from years of GOP rhetoric about fiscal discipline and narrows the chance of making permanent tax-code changes, budget experts say.
Senators Bob Corker of Tennessee and Pat Toomey of Pennsylvania announced the agreement to include instructions in a budget resolution that are expected to allow for $1.5 trillion in tax cuts. Still, neither senator would confirm that figure, and the budget measure has yet to be written by Chairman Mike Enzi.
Corker, a self-described deficit hawk, said the deal gives Congress "headroom" to write legislation that grows the economy, but insisted he would only support a final bill if it "does not worsen but hopefully improves our fiscal situation." Toomey, who has been pushing for deeper tax cuts regardless of the near-term impact on the deficit, said the accord paves the way for legislation that "causes the economy to surge."
Senator Mike Crapo, another member of the budget panel, said the two senators' agreement makes a tax overhaul more likely.
"Having this out there shows the potential of what can get done and is potentially very helpful," Crapo said.
For now, tax legislation remains unwritten -- but it's clear that a $1.5 trillion cut over 10 years' time would stop well short of embracing every tax cut Republican leaders have discussed.
For example, it would roughly cover the cost of either slashing the corporate tax rate to 20 percent from 35 percent or doubling the standard deduction to help working-class taxpayers. But not both. To achieve additional cuts, Republicans would have to engage in the politically painful process of finding offsets by ending popular tax breaks.
Framework Coming
A group of congressional leaders and Trump administration officials that has been discussing the tax-overhaul effort for months plans to release a framework for legislation next week -- though it's unclear how many details will surface in that document.
Senate Finance Chairman Orrin Hatch, who'll play a key role in writing a tax bill, said Wednesday that the Senate's attempts to consider health-care legislation before the end of this month are complicating the task of crafting that framework.
"All I can say is that they are trying" to arrive at an agreed-upon framework, said Hatch. He has made clear repeatedly, however, that his committee won't necessarily be bound by the framework and won't serve as a "rubber stamp" for any particular plan.
"Everything gets in the way of tax reform, and we are going to have to be prepared to bulldoze through them," Hatch said in an interview. He added that the agreement between the budget panel's members was a positive development.
Temporary Cuts
If lawmakers abandon a commitment to a "revenue-neutral" tax bill -- that is, one that fully balances the effects of rate cuts with other provisions that broaden the tax base -- they'll probably have to make the cuts temporary, said William Galston, a senior fellow in governance studies at the nonpartisan Brookings Institution.
The reason for that potential drawback lies in the "budget reconciliation" procedure that Senate Republicans, who control 52 of the chamber's 100 votes, plan to use to pass a tax bill with as few as 50 votes. Under that procedure, any tax changes that would add to the long-term U.S. deficit would have to be set to expire within 10 years.
"Throwing in the towel on revenue neutrality will make agreement easier," said Galston -- in that it means tax writers would have to find fewer pay-fors, such as closing loopholes or ending other special tax breaks. "There's a cost to that, but the cost of not getting a tax bill done would, from the Republican standpoint, be much higher."
Senate Majority Leader Mitch McConnell earlier this year had said that any tax overhaul would "have to be revenue-neutral," due to the nation's "alarming" $20 trillion debt. But earlier this summer, McConnell backed off that commitment somewhat, saying there was debate among Republicans about how tax changes should affect the deficit.
The Budget Committee will next need to vote on the fiscal 2018 budget, which is to be used to set up a fast-track process for the tax legislation. That action could come as early as next week.
No 'Crazy' Estimate
Corker said he wants a credible score of the final tax bill to show the tax cuts would pay for themselves and not a "crazy" estimate, although he said he supports "dynamic" scoring, which uses economic models that assume economic growth would result from the tax cuts and mitigate the deficit impact.
He also said that the score would not have to come from Congress's Joint Committee on Taxation, which would be a major departure from Senate tradition. Such an approach "flies in the face of fiscal discipline," said Ed Lorenzen, a senior adviser for the nonpartisan Committee for a Responsible Federal Budget.
"This proposal fails the test of fiscally responsible tax reform," said Michael A. Peterson, the chief executive officer of the Peter G. Peterson Foundation, which studies fiscal issues. "The Senate Budget Committee has many members who have long emphasized the need for fiscal responsibility, and if anything our fiscal outlook has only gotten worse."
Some Republicans would like to go further than $1.5 trillion worth of cuts. Senator Ron Johnson, a Budget Committee member, said he'd be comfortable with as much as $3 trillion in tax cuts, saying: "We've got to grow our economy."
Before it's here, it's on the Bloomberg Terminal.
LEARN MORE