Russia to Bail Out Second Major Bank in Month as Troubles Spread
By , , and
Central bank to provide funds to support B&N liquidity

Bank Otkritie FC was rescued in August after run on deposits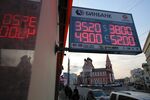 Russia's central bank agreed to bail out B&N Bank, one of the top five closely held lenders, as the second major rescue in less than a month stokes concerns of a wider crisis.
The Bank of Russia will provide B&N with funds to bolster its liquidity after the lender asked for the help, the regulator said in a statement Wednesday. Last month it took over Bank Otkritie FC following a run on deposits.
The move highlights the complications accompanying the Bank of Russia's efforts to clean up the financial sector after the dual economic shocks of a collapse in oil prices and international sanctions in 2014. B&N was among a handful of private lenders picked by the regulator to help rescue other ailing banks, unchecked expansion and mounting bad debt.
"The story of Otkritie, and now with B&N, seriously raises questions about the actual state of private banks," said Dmitry Polevoy, chief economist for Russia at ING Groep NV in Moscow. "It raises a huge question to the central bank from the point of view of supervision."
B&N appealed to the regulator after some of the banks it acquired since 2014 turned out to be in worse shape than it expected, according to a statement from the company. Russia's weak economic recovery after the longest recession in two decades has made it hard for banks to generate earnings, said Pavel Medvedev, a former legislator who holds the official government post of financial ombudsmen.
'Crisis' Point
"This is a crisis," Medvedev said. "It's sad that big and well-known banks wind up in a situation when they need help from the central bank."
B&N, owned by billionaire Mikhail Gutseriev and his nephew Mikail Shishkhanov, saw its assets grew fivefold in less than four years. It was among non-state banks including Otkritie and Promsvyazbank PJSC, that rapidly expanded since 2014 through acquisitions and received state money to rescue smaller competitors.
Shishkhanov plans to oversee the lender's bailout with the support of the central bank without imposing a moratorium on payments, B&N said. That would mirror the treatment of Otkritie, in which the consolidation fund has taken a stake of at least 75 percent while continuing to service the lender's debt.

The central bank has closed more than a third of Russia's banks -- about 300 lenders -- in the past three years as it purges undercapitalized institutions. Otkritie was the first systemically important lender to be targeted in its efforts. There are 11 lenders on the regulator's too-big-to-fall list, after Credit Bank of Moscow PJSC was added last week.
Despite the central bank's ongoing efforts, many of Russia's private lenders are still troubled, with S&P Global Ratings estimating that troubled assets in the sector are equal to more than 20 percent of total loans.
Russian private lenders' Eurobonds slumped as the news of the bailout spurred concern the problems could spread to other non-state banks. Credit Bank of Moscow's October 2027 Eurobond fell, lifting the yield by 58 basis points to 8.934 percent, the highest since Sept. 4. Promsvyazbank PJSC's October 2019 Eurobond also declined, pushing up the yield 33 basis points to a record high of 6.336 percent. Alfa-Bank JSC's September 2019 bond yield climbed eight basis points to 4.09 percent.
The regulator's policies have prevented contagion in the short term but will lead to a greater state role in the banking sector with no obvious exit strategy, according to Kirill Lukashuk, an analyst at the Russian rating company AKRA.
'Substantial Hole'
"The size of the hole at B&N Bank will likely be substantial," Lukashuk said. "We're not talking about a crisis in the banking system, which is fundamentally strong."
State-owned lenders accounted for about 60 percent of all Russian banking assets before the takeover of Otkritie.
In August, B&N and Otkritie -- together with Credit Bank of Moscow and Promsvyazbank -- were identified in a note by Alfa Capital investment adviser Sergei Gavrilov that could be forced into a cleanup by autumn. Alfa Capital, under pressure from Russian market regulators, later retracted the note.
Credit Bank of Moscow has no exposure to B&N, Chief Executive Officer Vladimir Chubar told Bloomberg Wednesday. Promsvyazbank's press office said it wouldn't be affected by the proposed rescue.
— With assistance by Olga Voitova, Evgenia Pismennaya, Ilya Arkhipov, and Ksenia Galouchko
Before it's here, it's on the Bloomberg Terminal.
LEARN MORE