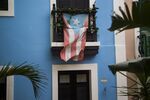 Disagreements about money often have a clear solution: Everyone sues each other. That's the American way.
And so it goes for Puerto Rico, the fiscally crippled island that incurred $74 billion of debt over a period when its population and economy were shrinking. Investors have brought many suits against the commonwealth, which now appears to be setting the stage for its own lawsuit against big Wall Street banks.
After all, going after large banks has turned into standard operating procedure for big municipal insolvencies. Just think of Orange County, California, which worked out $800 million in settlements from Merrill Lynch & Co. and others after going bankrupt in the 1990s.
In the past few decades, a key lesson for troubled municipalities has been, "Who can you sue for bringing you to this crazy place?" John Moorlach, who became treasurer of Orange County after it filed for bankruptcy, said in a 2011 Bloomberg News article. These banks actually have money and profits to go after. They also have a dubious public reputation, making them good public whipping posts.
This brings us to Puerto Rico, which is seeking to restructure its onerous debt load as soon as possible and whose already frayed finances are going to be tested by hurricane damage. The island's federal oversight board just hired a law firm to investigate how Puerto Rico's bonds were marketed and other issues surrounding its excessive borrowing, among other issues, Bloomberg News reported Monday. One board member said the probe "is going to be as broad as can be."
That's thinly veiled code for "let's see if we can go after big banks for distributing these bonds."
As Joe Mysak, Bloomberg's municipal bond market expert, put it, "Wall Street will pay. This will provide the foundation."
It's overly simple, of course, to say big banks should have known better than to underwrite Puerto Rico's excessive debt. Without a doubt, big banks could have been more cautious when helping Puerto Rico with its finances. It's not too hard to see how it could be imprudent to double the commonwealth's debt load in the decade after 2004 as the population dropped about 16 percent. Arguably, large banks were thinking more about the fees they could earn than the feasibility of the island's capital structure when investors couldn't buy enough high-yield triple tax-free securities .

That said, Puerto Rico and its local financial institutions aren't innocent bystanders. The island's leadership failed to keep its promises to shore up its finances and used mutual-fund money as the island's piggy bank. Big Puerto Rican banks, including Banco Santander Puerto Rico, the Government Development Bank for Puerto Rico and Banco Popular de Puerto Rico, earned millions of dollars in fees as they advised on financial structures and arrangements.
Meanwhile, the island's debt buyers also hold some blame for racing to purchase higher-yielding bonds without truly assessing the risks. Even some big U.S. banks even expressed nervousness to them about the island's finances.

Clearly there's plenty of blame to go around. But big Wall Street banks have a target on their backs almost out of habit. It's easy to point a finger at them for failing to be a more judicious gatekeeper on the debt sales, regardless of whether they actually did anything improper. Puerto Rico certainly appears to be setting the stage to do just that.
Before it's here, it's on the Bloomberg Terminal.
LEARN MORE