May Clinches Cabinet Support Ahead of Florence Brexit Speech
By and
U.K. prime minister's speech will get more specific on bill

Focus will be on money, transition period, final trade deal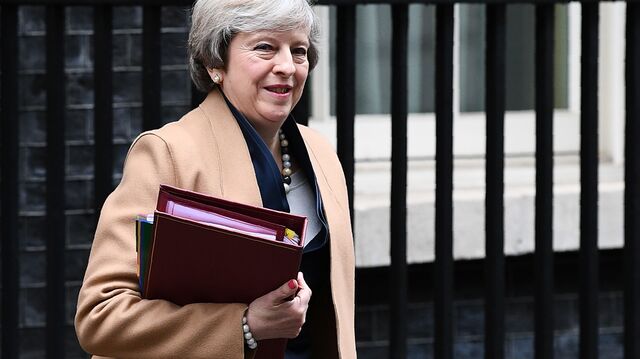 Follow @Brexit for all the latest news, and sign up to our daily Brexit Bulletin newsletter.
U.K. Prime Minister Theresa May's cabinet appeared to support her vision for Brexit after a two-hour discussion on how far she can talk about money and trade in a speech on Friday designed to revive negotiations with the European Union.
"Very united, very good, all behind the speech" Work and Pensions Secretary David Gauke told Sky News as the meeting broke up at lunchtime Thursday. The meeting was "very constructive," he said.
May is toying with how far she will go to appease EU demands the U.K. settle a "Brexit bill" of tens of billions of pounds and her office said it would not be providing a readout of the Cabinet's conversation.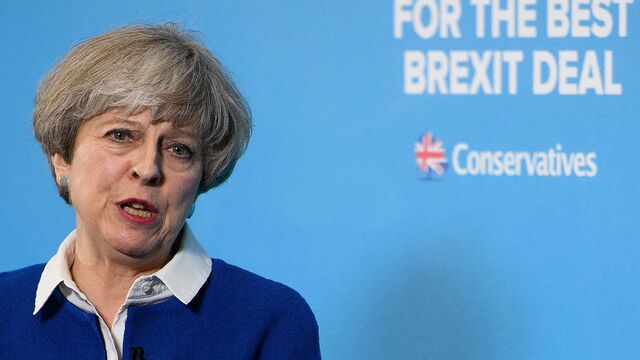 The buy-in from her most senior ministers is critical for May on the eve of a landmark speech in the Italian city of Florence in which she will appeal directly to heads of the other 27 EU governments and strike a more conciliatory tone than her combative January address. It caps a tumultuous week in which her top diplomat dangled the idea of resigning if she softened her stance too much.
She will now finalize her speech and seek to present a coherent U.K. position a week after attempts to show a united front were thrown into disarray by Foreign Secretary Boris Johnson. His 4,200 word article on Brexit, in which he called for minimum payments to the bloc and signaled he wanted a short transition period, was widely seen as an attempt to force her hand and ultimately take her job.
May "has the backing of the cabinet, all of us" Gauke said when asked if Johnson also supported the prime minister.
Read more on May's twisting path to Florence from Lancaster House
Talks in Brussels have stalled amid differences over how much the EU wants the U.K. to pay to cover budget commitments and the rights of its citizens in post-Brexit Britain. The BBC reported that May will seek a transition of two years and say that she doesn't plan to mimic the commercial relationships the EU has with Canada or Norway. She wants a bespoke, rather than off-the-shelf, final arrangement, the BBC said.
May is likely to say Britain will continue to pay into the EU until 2020 when the budget period runs out, even though the country is scheduled to leave the bloc on March 29, 2019, according to a person familiar with her latest thinking.
Despite this offer to avert what would be a budget black hole -- estimated at 20 billion euros ($23.8 billion) -- May is said to be considering whether she can go further so as to inject life into the talks. Some analysts have suggested the EU will seek a gross 100 billion euros, but first wants to build a framework for calculating the sum.
Michel, Barnier, the EU's chief negotiator, said in Rome on Thursday that the EU wants the U.K. to make precise commitments and to give more information on its approach by the end of next week. He said the U.K. must follow all EU rules during any transition.
Who Decides
It will be the governments rather than technocrats such as Barnier who decide whether the U.K. has made "sufficient progress" in addressing the terms of the separation for talks to move on to trade. EU officials including Barnier have indicated that milestone may not be reached when leaders convene in Brussels in mid-October.
May has already changed her language on the questions of payments to the EU. In January, she said Britain would no longer "contribute huge sums" to the bloc. In New York this week she qualified that, saying the payments wouldn't go on "year on year on year."
The EU wants Britain to pledge to pay the so-called Brexit bill, which includes long-term liabilities for items such as the pensions of EU staff. One option under consideration, the person said, is for May to signal clearly that she will discuss the EU's demands for payments beyond Britain's current commitments to its budget.
The money question has poisoned the negotiations, which broke down in acrimony last month. A new round of talks was due this week but was postponed to accommodate May's speech. EU negotiators were unmoved by British legal arguments that the U.K. could leave the bloc without owing anything.
Time Pressures
Previous attempts by the U.K. to go around Barnier to the EU capitals have flopped, with the region's governments so far united in saying they back him to handle the talks. Barnier said this month that anyone trying to undermine the EU's strategy would be "wasting their time."

Her speech comes at a critical moment for Brexit and for the prime minister's position at home. While she wants to say something to reassure the EU and allow talks to advance, she is also wary of angering euro-skeptics in her Conservative party, including Johnson.
For the foreign secretary -- and others who support his position -- payments to the EU must cease after Brexit and any transition period must be kept short. The speech is being redrafted constantly in an attempt to accommodate the competing demands between the EU and Tory euro-skeptics, officials familiar with May's thinking said.
Status Quo
Despite Johnson's concerns, the transition period May will outline is likely to last years rather than months and to resemble as closely as possible the current terms of EU membership, according to the person.
This so-called "status quo" transition is intended to make it easier for businesses, giving them more time to adjust to Brexit and avoiding the need for them to adapt more than once to a change in the rules of trade.  
Johnson joined May on her flight back to London from New York, where they were at the UN together, and left Thursday's cabinet meeting alongside Chancellor of the Exchequer Philip Hammond, who has argued for a softer break from the bloc than his cabinet colleague.
— With assistance by Thomas Penny
Before it's here, it's on the Bloomberg Terminal.
LEARN MORE