Macron Indicates Openness to Treaty Change as Part of EU Revamp
By
EU has failed to offer prospects to middle class, Macron says

Reforms in France meant to give credibility at European-level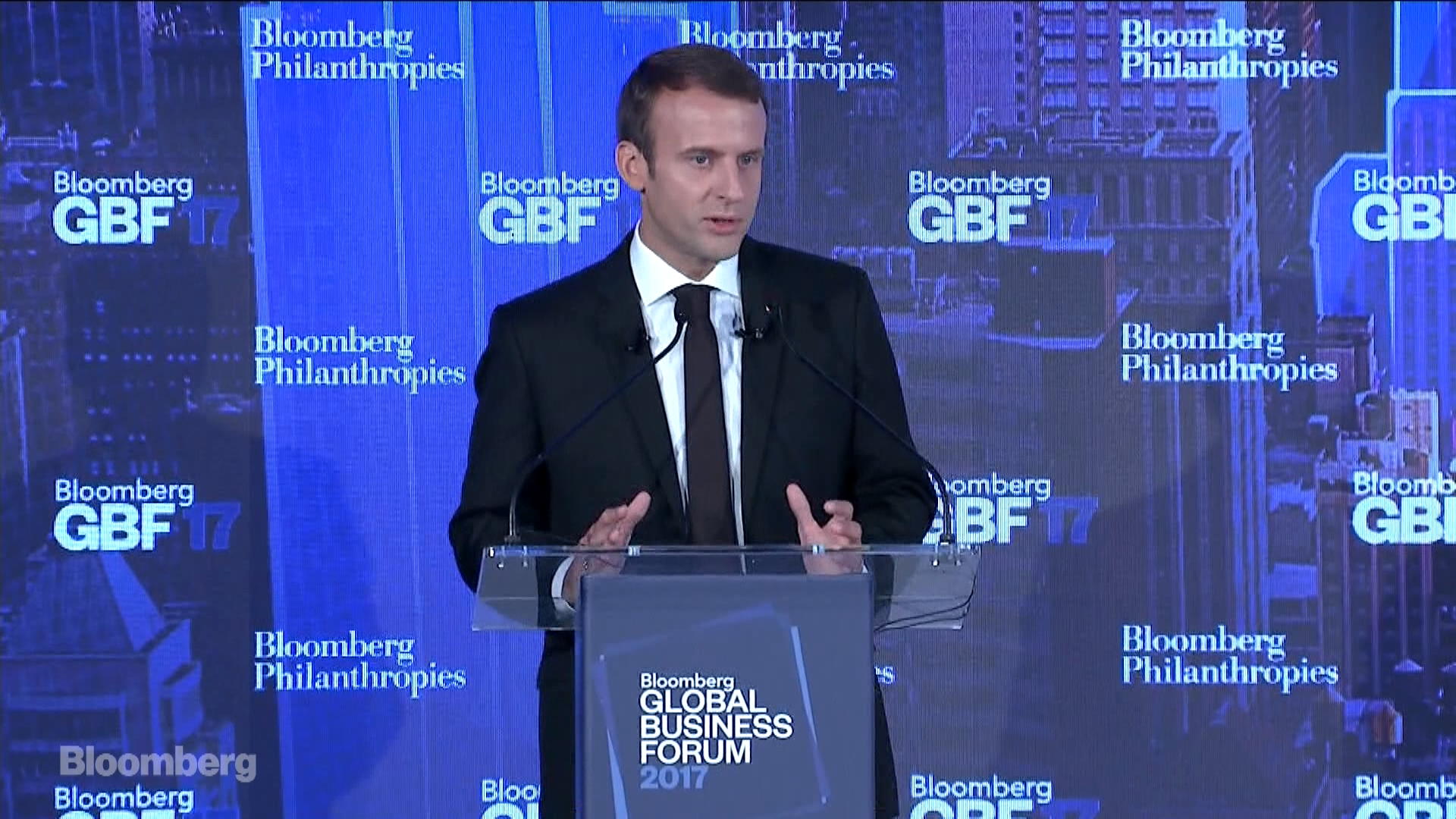 French President Emmanuel Macron indicated that he is open to changing European Union treaties as he prepares to set out his vision for revamping the bloc next week.
Speaking at the Bloomberg Global Business Forum in New York Wednesday, Macron said the economic changes he is pushing through in France are intended to give him the credibility he needs to change European institutions.
"We need more vision, less bureaucracy, ten-year objectives, and indeed new treaties and an actual process," he said. "The challenge is how Europe could be an actual pole with the United States and China. That's not the case today. And for me the main weakness in Europe is the lack of project and the lack of ambition."
Macron ran for president as an openly pro-European candidate, but was critical of the EU for not providing enough enthusiasm for its citizens. At the start of September, he spoke in Athens to call for citizens committees to be created across the soon-to-be 27 member bloc to generate ideas on what sort of Europe the public wants.
The comments underline the scale of Macron's ambitions in a European Union where constitutional change requires backing of all member states, including passage by referendum in some. Ideas floated by Macron include the creation of a budget and finance ministry for the euro zone, as well as the bloc's ability to raise funds on the bond market.
Speaking in New York, Macron didn't give a date for next week's announcement, which is clearly timed to come after Sunday's German general election.
The British vote to leave the EU reflected the underlying problems, notably the bloc's failure to provide prospects for its middle classes, in Macron's vision. "That today is our weakness, there is no more space for our middle classes in Europe," he said.
Turning to France, and speaking in front of an audience that included many business leaders, he said recent changes to France's labor law and a coming overhaul of its job training programs are to provide France with a "flexi-security" better adapted to the modern economy.
"Our current model destroys jobs and isn't adapted to the new economy, with its short cycle of innovation," he said. "We will destroy a lot of classical jobs, but we will create others in energy, in digital, in new sectors."
French and EU policy are inseparable, he said. "I need a strong France, without that I won't be in a situation to promote European reforms."
Before it's here, it's on the Bloomberg Terminal.
LEARN MORE