Iran's Leaders Are Bolstered by Billions in Loans From the East
By
Japan, South Korea, China have agreed credit terms for Tehran

U.S. president may exit 2015 nuclear deal in coming weeks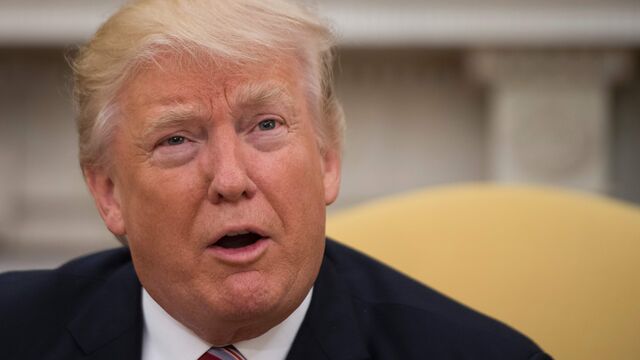 As Donald Trump escalates his offensive against Iran, its leaders are being bolstered by billions of dollars flowing from the east.
It was the turn of the Chinese last week, as a group of Iranian banks secured $10 billion in loans from Citic Group, and Iran signed preliminary agreements worth about $15 billion with China Development Bank. That followed a $10 billion credit accord with Japan last year, and Iran has also signed a $9.6 billion deal with the Export-Import Bank of Korea.
The funding is a "big political statement from governments," some traditionally close to America, at a time when the U.S. is seeking help in confronting Iran, said Henry Smith, lead analyst on Iran and the Middle East at the Dubai office of Control Risks, a global risk consultancy. Major private lenders aren't about to drop their guard with Iran, he said, but having states heavily invested can boost the confidence of executives pondering their plans.
At the United Nations on Tuesday, Trump centered his speech on what he called the "wicked few," calling Iranian President Hassan Rouhani's government a mask for a corrupt dictatorship, and labeling the 2015 nuclear accord that lifted sanctions an "embarrassment" to the U.S. Iran was bracketed with North Korea, which Trump said was led by a "band of criminals" embarked on a "suicide mission" as they blasted off missiles and detonated nuclear devices.
Iranian officials have rejected proposals to reopen the agreement, bolstered by European signatories keen to support Rouhani's administration and protect major corporate investments, as well as the money offered from Asia.
Confidence Vote
Iran hasn't had access to low-interest credit on this scale for more than a decade, according to Cyrus Razzaghi, president of Tehran-based business consultancy Ara Enterprise, which works with foreign investors. To Razzaghi, it's a vote of confidence in the leadership of Rouhani, who defeated a hardline conservative challenger in May's election after vowing to deepen engagement with the West in his second term. Securing further lending would enable Iran to "achieve a lot on the ground," he said.
There's a lot to do. A McKinsey report last year estimated Iran will need to spend $1.6 trillion over the next two decades on revamping its transport, utilities and housing.
Progress since sanctions were removed in January 2016 in return for caps on Iran's nuclear program has been slowed by separate U.S. curbs imposed over Iran's missile development and support for groups the U.S. and some European nations designate as terrorists.
Trump regularly accuses Iran of not sticking to the spirit of the nuclear deal, rather than countering regular assessments by UN monitors that it is abiding by its technical obligations. He has signaled he might withdraw from the agreement before Oct. 15, when his administration must deliver its next quarterly review of the pact to Congress. Trump's advisers contend that the accord simply postpones the day when Iran will be able to develop a nuclear weapon because many of its toughest restrictions expire in 2025 or 2030.
Other parties -- China, Russia, Germany, the U.K. and France -- have vowed to stand by their hard-won diplomatic achievement, but without the U.S. it would be substantially weakened.
'Long Game'
Chinese "support for Iran's development won't change regardless of international circumstances," said Li Guofu, who specializes in Middle Eastern affairs at the China Institute of International Studies, a Beijing-based research group run by China's Foreign Ministry. "Beijing plays a long game in the country, which is a key link in President Xi Jinping's Belt and Road Initiative," he said, a reference to the Chinese leader's ambitious plan to connect Asia with Europe and Africa through a web of ports, railways and highways links. China's Sinopec is helping develop an Iranian oil refinery, one of a slew of deals in the sector involving Asian firms.
Last week's credit agreements only reinforce the strategic nature of bilateral ties, said Iran's central bank Governor Valiollah Seif.
Japan has been more cautious in embracing opportunities in Iran, but that might change as it sees regional rivals moving in and governments facing down U.S. pressure to isolate Tehran, according to analysts.
Japanese firms have been waiting at the start line with "their foot on the gas," said Parham Gohari, co-founder of Frontier Partners, which advises multinationals thinking of entering Iran's market of 80 million people. "They have strategies in place, some even have target acquisitions or partners in place."
— With assistance by Ting Shi
Before it's here, it's on the Bloomberg Terminal.
LEARN MORE