Facebook Is Adding Oversight to Avoid Future 'Jew-Hater' Targeting
By
Company says it will ban offensive targeting options

Facebook will add human reviewers to step up enforcement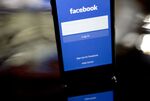 Facebook Inc. is stepping up enforcement of its ad-targeting system and adding human reviewers to ensure offensive categories aren't an option, after a ProPublica report showed it was possible to target people who described themselves as "Jew haters."
Chief Operating Officer Sheryl Sandberg said the social network operator will make reviews of its self-service advertising system more manual. Facebook will also clarify its advertising policy to disallow targeting using any criteria that directly attacks a group of people.
"We never intended or anticipated this functionality being used this way -- and that is on us," Sandberg said Wednesday in a post on Facebook. "And we did not find it ourselves -- and that is also on us," She added that Facebook is working on allowing people to report potential abuses of its ads system, like it does for other parts of the site, to help clean it up.
Facebook's ads system lets anyone pay to reach people based on how they describe themselves -- their job title, their education, their interests. ProPublica found that some people filled in anti-Semitic answers for those categories, and that Facebook made it possible to market to them. After the report, Facebook shut down that option temporarily, and is now reinstating about 5,000 of the most commonly used terms, such as "nurse" and "teacher."
Sandberg said the self-service ad systems were meant to help anyone have the kind of targeting previously only be reserved for sophisticated marketing teams, and that the flaw wasn't discovered because "these terms were used so infrequently." But "the fact that hateful terms were even offered as options was totally inappropriate and a fail on our part."
Before it's here, it's on the Bloomberg Terminal.
LEARN MORE