Barcelona Braces for Sustained Protests After Police Raids
By
Separatists call 'permanent' demonstration from noon Thursday

Premier Rajoy aims to block independence vote with crackdown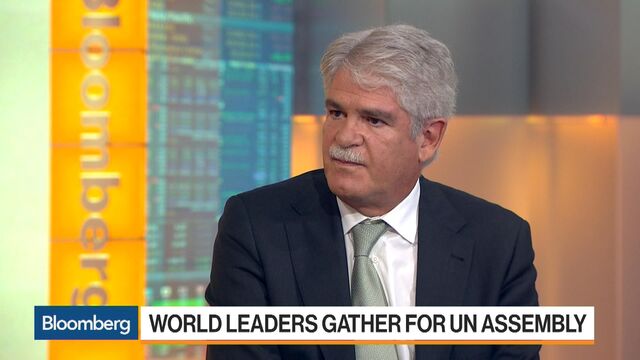 Barcelona is bracing for ongoing protests after campaigners for Catalan independence scuffled overnight with Spanish police cracking down on plans for a referendum on secession.
Thousands of people, mainly retirees and college students, gathered in downtown Barcelona on Thursday with a second day of demonstrations marked by a carnival atmosphere, a shift in tone from the night before. Volunteers erected stalls to distribute propaganda and set up a media center, while on the opposite side of the palm-tree-fringed plaza technicians prepared a music stage for a neighborhood fiesta.

Wednesday's event ended with separatist leader Jordi Sanchez giving a defiant speech from the top of a battered police car outside the regional economy department as Spanish officers struggled through the mass of protesters after searching the building. Earlier in the day they detained regional officials and seized ballot papers in a bid to shut down preparations for an illegal vote on Oct. 1.
"Half of our team is arrested -- not for doing something wrong, but for doing what we must do," Catalan Vice President Oriol Junqueras said, his voice breaking, in an emotional interview with regional broadcaster TV3. "It's obvious that the conditions for the vote have been altered," he added, a signal that his movement will struggle to claim the result as legitimate.
With Prime Minister Mariano Rajoy facing Spain's biggest constitutional crisis in more than three decades, the future of Catalonia will be shaped by the power struggle that plays out in the coming days between the forces of the state and the protesters on the streets. El Mundo newspaper reported Thursday that the central government plans to deploy almost 3,000 National Police and Civil Guard to Catalonia. El Correo, a Basque daily, put the figure at 16,000.

Read more: Catalan History of Grievance Leaves a Divided Spain: QuickTake
Rajoy has been ratcheting up his government's response to ensure the referendum won't happen. Wednesday's police raids led to at least 14 arrests as the Civil Guard also seized almost 10 million voting slips at an industrial warehouse near Barcelona.
"I call on them to end their illegal actions, to abandon their plans, they know this referendum cannot be held," Rajoy said in a televised statement Wednesday night. "It is nothing more than an impossible chimera or, which is worse, the excuse that some use to deepen even further the fractures that they have created in Catalan society."
'A New Escalation'
No analysts at this stage are projecting Spain's biggest economic region has much chance of actually winning independence -- just 35 percent said Catalonia should be independent in a July survey by the Catalan government's polling agency. But the rift between Barcelona and Madrid and, indeed, between the pro- and anti-independence factions within Catalan society, may leave a permanent scar on the nation's psyche and poses a threat to political leaders from both camps.
"There is no middle ground even possible at the moment," said Caroline Gray, a lecturer in politics and Spanish at Aston University in the U.K. by phone Thursday. "No side shows any sign of backing down."
The extra yield investors demand to hold Spanish 10-year debt instead of German bunds was little changed at 114 basis points on Thursday after rising by 4 points during the previous session.
The Old Regime
The protests are taking place in the symbolic Lluis Companys Avenue close to the Catalan Parliament. Companys was the last Catalan leader to declare independence from Spain in 1934 and was later executed by the Franco regime. Junqueras has a portrait of Companys hanging above his desk in his party headquarters. 
The crisis in Catalonia comes with the political order that steered Spain through a three-decade boom after its return to democracy in disarray after a historic economic crisis and revelations of systemic corruption among the political elites in both Madrid and Barcelona.
The fragmented parliament in Madrid, where Rajoy lacks a majority, has left the prime minister exposed as he appeals to Catalan leaders to drop their demands.
On Tuesday night, the lawmakers voted against a motion to support Rajoy's efforts to enforce the rule of law with the left-wing populists Podemos demanding the prime minister let the Catalans vote on their future and the Socialists divided. With no clear consensus on how he should be dealing with the issue, Rajoy's attempts to calibrate his response -- to block the vote without driving moderates into the separatist camp -- are beginning to unravel.
— With assistance by Charles Penty, and Maria Tadeo
Before it's here, it's on the Bloomberg Terminal.
LEARN MORE