Yuan Fix Is Back in the Spotlight
Bloomberg News
Top forecaster says reference rate good indicator of policy

Central bank uses fixing to signal unease after yuan rally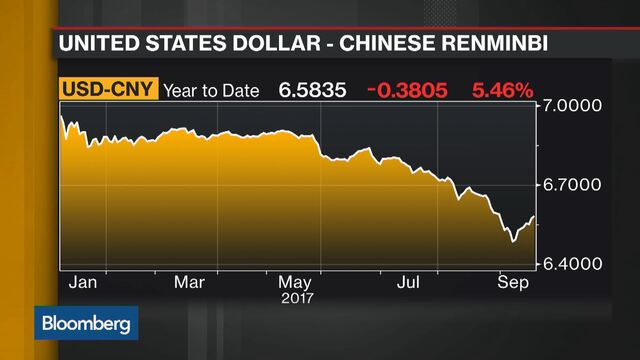 For Sean Yokota, one has to just look at the yuan's daily fixing to decipher China's foreign-exchange policy. Especially these days.
The currency's most-accurate forecaster says the difference between his estimate model -- based on overnight changes in major exchange rates -- and the official reading is a good indicator of where the People's Bank of China wants the yuan to be. The formula elbowed its way into heightened focus last week when a set of weaker-than-expected fixings spurred speculation the authorities were signaling displeasure at the yuan's Asia-beating surge.
"The fixing is the most important tool that signals PBOC intentions," said Yokota, Singapore-based head of Asia strategy at Skandinaviska Enskilda Banken AB, ranked by Bloomberg as the top yuan forecaster as of the second quarter. "We often use fixing behavior and comparisons with our internal model to initiate trade ideas."
After the yuan soared to the highest level since December 2015, the monetary authority surprised the market last week, setting the reference rate at levels weaker than estimated in Bloomberg surveys of traders for four days in a row. The moves, along with the removal of a measure that had made it costly to bet against the currency, pushed the onshore yuan to a weekly loss of 0.9 percent against the dollar, the most since November last year.

China's daily currency fixing is made all the more important by the dearth of other ways to decipher the central bank's outlook for the currency it manages. PBOC Governor Zhou Xiaochuan rarely comments on the yuan, while views from more junior officials in local newspapers can be contradictory to market moves and the speakers aren't always identified by name.
"It's much easier to look at the numbers to gauge policy intention than, say, listening to officials' comments," said Shen Jianguang, chief Asia economist at Mizuho Securities Asia Ltd. in Hong Kong. "It's more transparent. Officials' comments could lead to misunderstanding. This is especially true for overseas investors."
The fixing has been more keenly watched since May, when China said it may add a "counter-cyclical factor" to the formula. The move was seen by analysts as giving the authorities greater control of the market, with the daily fixing limiting onshore spot moves to 2 percent on either side.
The yuan's official close at 4:30 p.m. Tuesday was 329 pips weaker than the day's fixing of 6.5530 per dollar, the biggest discount in more than eight months. The currency was trading at 6.5736 per dollar as of 6:03 p.m. in Shanghai on Wednesday.
— With assistance by Helen Sun, and Ran Li
Before it's here, it's on the Bloomberg Terminal.
LEARN MORE