Spanish Foreign Minister Says Catalans Using 'Nazi' Tactics
By and
Separatists urging supporters to target opponents, Dastis says

Dastis seeking clarity from Theresa May on her Brexit plans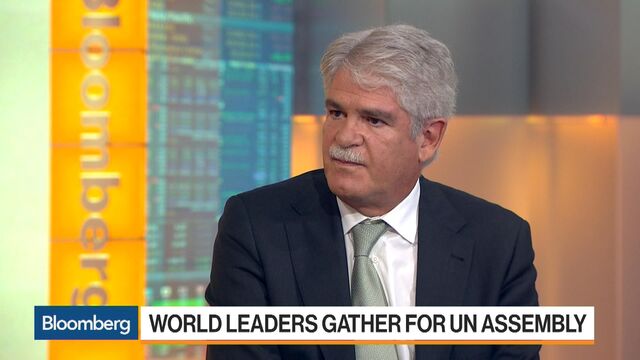 Spanish Foreign Minister Alfonso Dastis said Catalan separatists are using "Nazi" tactics to intimidate their opponents before an illegal referendum on independence.
"Referendums are a weapon of choice of dictators," Dastis said in a television interview in New York, observing that General Francisco Franco conducted two referendums in Spain before the country returned to democracy after his death in 1975.
"These people actually are taking some Nazi attitudes because they are putting up posters with the faces of mayors who are resisting their call to participate in this charade," Dastis said.
Spain's foreign-policy chief is attending the United Nations General Assembly as he pushes back against the Catalan government's insistence that its plans for an Oct. 1 vote on secession are about delivering freedom and democracy. After a series of rulings from the Constitutional Court decreed the vote illegal, Prime Minister Mariano Rajoy is imposing financial curbs on the regional administration and has promised tougher sanctions still if officials refuse to back down.
Dastis said that the separatists are encouraging their supporters to harass their opponents as tensions rise before the date set for the referendum.
"That's something you don't see in a democracy," he said.
Brexit Speech
Dastis said he's looking forward to U.K. Prime Minister Theresa May's speech on Sept. 22 and he hopes that she will make it clear whether she wants Britain to remain in the European single market or the customs union after Brexit, even for a limited time.
"We need some clarity about what the U.K. really wants," he said. "We want to know really that they are determined to achieve a deep and constructive partnership."
The Brexit deal is of particular importance to Spain as almost 18 million Britons visited the country last year. Spanish companies also export far more to the U.K. than the U.K. buys from Spain. More than 300,000 Britons are registered as residents in Spain, compared with 130,000 Spaniards in the U.K., though the real number of Britons living at least part of the year in the southern European country may be as high as 1 million.
He also said that U.S. foreign policy hasn't changed as much under President Donald Trump as some observers suggest.
"It has changed in terms of communication but in terms of government policy I think it is slowly but surely accommodating to what we have come to expect from the United States," he said.
Before it's here, it's on the Bloomberg Terminal.
LEARN MORE