Kenyan Officials Consider Proposed Election Delay
By
French company may be unable to provide vote system by Oct. 17

Supreme Court to give full ruling on vote annulment Wednesday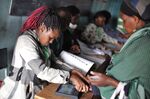 Kenya's electoral commission is considering a proposal to postpone the rerun of last month's annulled presidential election because of technical constraints, the authority's spokesman said.
OT-Morpho, a Paris-based company that provided two electronic systems for the ballot, wrote to the Independent Electoral & Boundaries Commission on Monday to say it's unable to provide a new results-transmission system by Oct. 17, when the vote is scheduled to take place. The company may also be constrained by the Kenyan Supreme Court's detailed ruling on the annulment, which will be announced on Wednesday and may comment on technical issues, it said by email.
"They asked for more time beyond the 17th," IEBC spokesman Andrew Limo said in an emailed response to questions. "Discussions were on the possibility of increasing resources to achieve the deadline. The commission will shortly announce the way forward after considering scenarios and implications."
The Supreme Court nullified the outcome of the Aug. 8 ballot, the first time a presidential-election result has been legally overturned in Africa, after finding the commission committed unspecified "irregularities and illegalities" and failed to conduct the vote in line with the constitution. The detailed judgment is expected to provide reasons for its decision and possible remedies.
The Star, a Nairobi-based newspaper, reported on Tuesday that the commission will propose Oct. 26 as the new vote date. Limo didn't comment on when the election might be held.
The country's main opposition alliance urged the French government to investigate Paris-based Safran SA and its relations with electoral officials who it alleged may have "acted in complicity and connived to undermine the will of the people of Kenya." Safran sold its digital-security unit in May to Advent International, owner of Colombes, France-based Oberthur Technologies SA, and the renamed company is called OT-Morpho.
Last week, OT-Morpho said its systems weren't tampered with to rig the outcome of the vote and said accusations against the company were an attempt to shift blame for the failed election. An internal audit of OT-Morpho's results-transmission system used in the vote showed that there were no traces of any suspicious activity, the company said on Tuesday.
Before it's here, it's on the Bloomberg Terminal.
LEARN MORE