'Fake News' in Kenya's Election Undermines Rule of Law, Embassies Say
By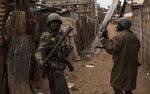 An upsurge in fake news, hate speech and ethnic-profiling after Kenya's Supreme Court nullified the presidential election risks undermining the East African country's constitution and institutions, the embassies of the U.S., U.K. and 14 other nations said.
Kenyan authorities should hold to account those responsible for incitement and ensure the safety of those wrongly attacked, including people working at foreign embassies, the missions said Tuesday in an emailed statement, without describing specific incidents. The embassies also condemned "malicious" documents about the judiciary that have been publicly circulated and "contain false statements that could endanger lives."
Kenya's Supreme Court nullified the outcome of the Aug. 8 ballot, the first time a presidential election result has been legally overturned in Africa, after finding the electoral commission committed "irregularities and illegalities" and failed to conduct the vote in line with the constitution. The court has until Sept. 21 to issue a written judgment that will probably provide reasons for its decision and possible remedies.
A rerun of the vote between President Uhuru Kenyatta and opposition candidate Raila Odinga is scheduled for Oct. 17. An Odinga adviser, Salim Lone, also warned Tuesday in an emailed statement that attacks on the Supreme Court's independence by Kenyatta's Jubilee Party will eventually undermine the rule of law.
Before it's here, it's on the Bloomberg Terminal.
LEARN MORE