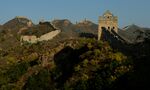 China is planning to open up its financial sector. For foreign investors, it may already be too late. 
Overseas firms may soon be able to buy more than 25 percent of a Chinese lender, set up investment banks and brokerages without a local partner, and expand into health, pension and catastrophe insurance, Bloomberg News reported Monday, citing people familiar with the matter. They may also be allowed to control their local finance-sector joint ventures, where rules currently limit them to 49 percent stakes.
While foreigners will jump at the chance of grabbing more market share in the world's second-largest economy, they'll have their work cut out making much headway.
State-owned companies dominate much of China's finance sector. Where there has been disruption, it's come from homegrown fintech players spawned by Alibaba Group Holding Ltd. and Tencent Holdings Ltd. Alibaba affiliate Ant Financial and Tencent's WeChat, for instance, already dominate the payments market, while Hong Kong IPO candidate ZhongAn Online P&C Insurance Co., which is part-owned by the internet giants, has been growing fast.
A shakeup is needed. For all Beijing's complaints about unfair treatment in the U.S., where President Donald Trump last week blocked a China-led takeover of Lattice Semiconductor Corp., the Asian country remains one of the world's most restrictive for foreign investment. There are plenty of no-go areas apart from the traditionally sensitive sectors of media, internet and telecommunications.  

Frustration with its inability to sway key decisions drove JPMorgan Chase & Co. to exit an investment banking venture in December, while even veteran China investors UBS Group AG and Goldman Sachs Group Inc. remain small players. As of last year, HSBC Holdings Plc was still losing money in retail banking and wealth management on the mainland.
That's why evening out the playing field is crucial. China can afford to be generous. Mainland financial firms are far stronger than they were in the early 2000s, when many were grappling with crushing bad debt and the insurance market was much smaller. Easing entry will also bring in more offshore capital.
China's financial giants are getting bigger by the day, outside the mainland as well as at home. Once dominated by the likes of UBS, Goldman and Morgan Stanley, arranging initial public offerings in Hong Kong has become a largely Chinese affair. 

While it's unclear how much of the life insurance market will be opened up, the industry is illustrative of the challenges for non-Chinese firms, which control only 5 percent to 6 percent of premiums despite a presence spanning decades. AIA Group Ltd.'s share accounted for 0.6 percent of gross premiums among all life insurers in China in the first seven months of the year, according to Bloomberg Intelligence analyst Steven Lam. That's despite the company being the only foreign-owned life insurer allowed to operate without a partner.
That's not to say overseas firms won't make money. They remain the best conduits for getting funds into China, especially as trading links set up between Hong Kong and mainland stock exchanges spur flows. They could also collaborate with Chinese fintech firms keen for an overseas platform: Such partnerships may be a better strategy for Ant Financial than persisting in its bid for Moneygram International Inc. of the U.S., a deal that's threatened by the charged political environment.
Opening the doors to stiffer competition from outside should help transparency and governance in China's freewheeling financial system. But anyone expecting that the country will finally yield the lucrative returns long coveted by U.S. and European financial companies is riding on hype rather than reality.
Before it's here, it's on the Bloomberg Terminal.
LEARN MORE