Five Things You Need to Know to Start Your Day
Get caught up on what's moving markets.
By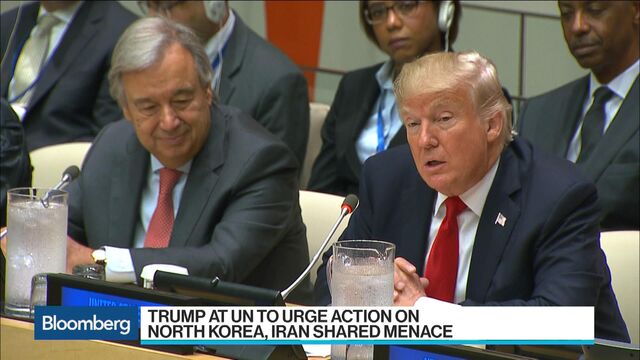 Want to receive this post in your inbox every morning? Sign up here
Trump to address United Nations, Toys 'R' Us seeks bankruptcy, and the Fed meeting begins. Here are some of the things people in markets are talking about today.
Call for action
President Donald Trump will use his first address to the United Nations today to call on world leaders to form an alliance to confront North Korea and Iran, the countries his administration sees as the greatest threats to global security. The president yesterday said that he will see "very soon" if the U.S. will withdraw from the Iran nuclear deal. For Trump, the chance to make his pitch on the global stage may come as a welcome relief from the domestic political scene where his campaign promises have left him somewhat boxed-in on policy options. 
Toys are bust
Toys 'R' Us Inc. filed for Chapter 11 bankruptcy protection after brutal competition between online and warehouse retailers pushed the bricks-and-mortar operator over the edge. The debt-laden company joins the lengthening list of traditional U.S. stores that are struggling in the online environment. Several companies that filed for Chapter 11 in recent years have re-entered bankruptcy a second time -- something the industry has started calling "Chapter 22s." In other corporate-headache news, sources say that Equifax Inc. learned about a significant breach of its computer systems in March, five months before the major hack that exposed the personal and financial data of 143 million U.S. consumers -- and which may have been carried out by the same attackers. 
Fed meeting
The two-day Federal Reserve monetary-policy meeting begins today in Washington. While investors see the chances of another rate rise this year as a coin-flip, attention will mostly be focused on the central bank's plans to shrink its $4.5 trillion balance sheet, which are expected to be announced tomorrow. The meeting will also be Vice Chairman Stanley Fischer's last, and could be one of Janet Yellen's final appearances, depending on whether Trump decides to reappoint her. That prospect has economists questioning the future of QE as a policy tool. 
Markets quiet
With few major economic data out today, global markets are firmly in waiting-for-the-Fed mode. The MSCI Asia Pacific Index climbed 0.5 percent overnight, largely thanks to Japan's Topix index, which added 1.8 percent as it caught up after Monday's holiday, with the weaker yen lending a helping hand. In Europe, the Stoxx 600 Index was broadly unchanged at 5:45 a.m. Eastern Time, while S&P 500 futures were also steady. Ten-year Treasury yields stood at 2.222 percent, and gold was a smidgen higher. 
More storms
Hurricane Maria is set to become the third storm in two weeks to hit Caribbean island nations later today. Separately, a weakened Hurricane Jose could graze the U.S. Northeast on Wednesday. Already, this hurricane season has seen an estimated $143 billion in damage across the south of the country from Texas to Florida.
What we've been reading
This is what's caught our eye over the last 24 hours.
Before it's here, it's on the Bloomberg Terminal.
LEARN MORE