Finance
Bond King Bill Gross Falls to the Middle of the Pack
Three years after leaving Pimco, he's doing just OK.
By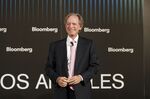 Bill Gross once oversaw $2 trillion in assets and was named fixed-income manager of the decade in 2010 by mutual funds researcher Morningstar Inc. A 2004 biography called him "the bond king." In an era of index investing, he's one of a handful of mutual fund managers—much less bond fund managers—whose name is known outside Wall Street.
But as he approaches the third anniversary of his noisy ouster from Pacific Investment Management Co., the company he co-founded and built into the world's largest bond manager, and his move to a new fund, Gross's performance has been merely OK. Three years is an important milestone for a money manager, because that's when many financial advisers and institutional investors decide his track record is long enough to be meaningful. "At one time, Gross had superstar results," says Stephen Janachowski, a former Gross investor whose Mill Valley, Calif.-based wealth management firm oversees $1.6 billion. Gross owes his fame to one of the great market-beating records in money management, with his main fund, Pimco Total Return, outperforming 96 percent of its peers over the 15 years before he left, according to Morningstar. "Can he duplicate what he had before at Pimco? So far, it hasn't shown up," Janachowski says.
After being pressured in 2014 to quit Newport Beach, Calif.-based Pimco, Gross in October of that year became the manager of what's now called Janus Henderson Global Unconstrained Bond Fund—"unconstrained" meaning he's free to pursue a wide variety of strategies. Under Gross, the fund's returns have averaged about 2.3 percent annually, middle of the pack among alternative fixed-income funds ranked by Bloomberg. In November, Morningstar removed the fund from a list of up-and-comers "because returns have been so-so vs. major bond indexes, and there are questions about the resources behind Gross."
Investors, including Janachowski, withdrew hundreds of billions of dollars from Pimco amid the turmoil surrounding Gross's departure. Little of that money followed him to Janus, and some that did has already left. George Soros placed $500 million with Gross in 2014, then withdrew it the next year. Gross's fund now has about $2.1 billion, almost half of which is from his personal fortune, according to a June regulatory filing. He oversees an additional $800 million outside the fund, according to Janus.
Gross declined an interview request for this article. When asked in May about his performance, he graded himself a C for asset gathering and an A- for returns that beat the benchmark, the three-month London interbank offered rate in U.S. dollars, against which he measures the fund's performance. That may not seem like a high bar—the current rate is 1.3 percent—but he aims to clear it even in years when broad bond and stock indexes are down. Of his performance as of May, he said, "sophisticated investors look at that and say, 'Gross is really adding alpha here,' and it's true." Alpha among money managers means extra gains above a benchmark.
One of Gross's goals is to protect against the effects of a rise in interest rates, a trend he's been predicting for years. (Rising rates hurt bond prices.) He's preferred bonds with low sensitivity to rates, according to a midyear portfolio commentary. Gross has generated added return with options strategies, essentially selling other investors insurance against volatility—he thinks they often overpay. But in the second quarter the fund lost money on one of its bets when German government bonds rallied more than he'd anticipated. "He sometimes outsmarts himself by being so active on things," says Guy Benstead, co-manager of the Cedar Ridge Unconstrained Credit Fund.
Gross works in a quiet, 14th-floor corner office in Newport Beach at a desk with a wall of computer screens. His support staff in the adjoining room is about 1 percent the size of the global team at Pimco that fed his trading ideas. He's confessed to missing the contentious debates with his former Pimco colleagues. He quit the company on Sept. 26, 2014, leaving a handwritten resignation note making his departure effective one minute before New York markets opened. A year later he sued Pimco, alleging a "cabal" of executives pushed him out to carve up his share of the bonus pool, which was $290 million in 2013. He settled with Pimco this March for $81 million and an agreement that his name would be recognized in the company's new "Founders Room." In May he called the outcome a "vindication."
Pimco's headquarters rise a block and a half from Gross's office window, a constant reminder of the past. Here's another: The Pimco Unconstrained Bond Fund, another fund he ran with a similar approach, has a better three-year record than his; this year it's returned 5.9 percent, compared with 2.6 percent for his fund. Pimco Unconstrained is still smaller than before he left, with assets of $3.6 billion, down from $18.3 billion in September 2014. Elsewhere, Pimco has turned around. Investors poured a record $62 billion into the company's funds in the second quarter of 2017. While Pimco Total Return Fund, which under Gross's management became the world's largest mutual fund, has lost about three-quarters of its assets since its 2013 peak of $293 billion, it had its first net inflows in August after 52 straight months of withdrawals.
After Denver-based fund company Janus hired Gross, Chief Executive Officer Richard Weil compared Gross's arrival to the trade that brought Peyton Manning to the Broncos. But Gross seems less like a team-leading quarterback than a solo talent. In 2015, Weil brought in Kumar Palghat to help run the unconstrained fund, a relationship that lasted only 12 months before Palghat was reassigned and Gross was back on his own. In May, Janus completed a merger with Henderson Group Plc. Corporate headquarters moved to London, eight time zones from Gross's desk. His name didn't come up in the firm's August earnings conference call.
Weil has called Gross "the best fixed-income investor on planet Earth," but he's said issues such as the Pimco lawsuit worked against him. "I did go to Bill and say, 'It looks like every time you punch them you punch yourself, and maybe we ought to consider how much we like that,' " Weil said in a June conversation with Bloomberg News. "Bill said, 'If you know anything about me, I'm a fighter, and if I don't think they're treating me right, I'll make my case.' That's his business. It's not our business."
Gross remains a frequent guest on CNBC and Bloomberg TV, commenting on unemployment reports and Federal Reserve policy. He still pens his widely followed investment outlooks—newsletters opening with breezy anecdotes about physics or Greek mythology and usually concluding with advice to invest cautiously.
Reversals in relative fortunes can happen quickly in the fund game—back in 2015, it was Gross who was outpacing Pimco Unconstrained. In the May interview, Gross said of his current fund operation: "Is it the same as a block and a half down the street in terms of size? Oh no, but I've grown accustomed to my face." He hummed the melody of the famous love song from the Broadway musical My Fair Lady and chuckled.
BOTTOM LINE -
Gross left the fixed-income giant he co-founded to run a new, smaller portfolio. He's currently trailing a comparable fund he used to manage.
Before it's here, it's on the Bloomberg Terminal.
LEARN MORE