UN 'Club' Trump Derided Forges Unexpected Alliance on Key Issues
By
World leaders descend on New York for annual UN assembly

Haley praises Guterres for effort to streamline UN operations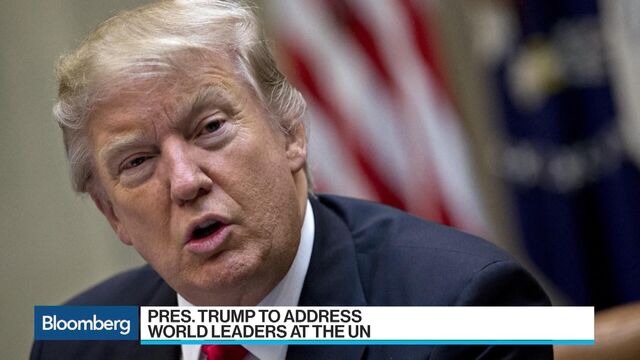 President Donald Trump, who derided the United Nations as a "club for people to get together, talk and have a good time" after his election, is surprising veterans of the global body by leaning on it to help carry out his foreign policy agenda.
From pushing the Security Council to tighten sanctions on North Korea to forging a partnership with Secretary-General Antonio Guterres over cutting troubled peacekeeping programs, the Trump administration and UN officials have found overlapping areas of agreement that many analysts didn't expect.

"The Korean crisis has focused U.S. attention on the value of the Security Council," said Richard Gowan, a UN expert with the European Council on Foreign Relations and author of a new report on Trump and the UN. "The irony is that the Trump administration now really needs a functional UN to help it deal with the biggest threat on its agenda."
The annual UN General Assembly, which is drawing almost 200 world leaders to New York this week, will put that relationship to the test. European leaders will press Trump, who addresses the global body for the first time on Tuesday, to recommit to a 2015 Iran nuclear deal that he's threatened to walk away from. And another North Korean missile launch or nuclear blast could quickly force Trump to choose between more diplomacy or a devastating military conflict.
Trump will call on world leaders to step up efforts to curtail North Korea's nuclear program, said Kellyanne Conway, senior adviser to the president.
"North Korea is not a distinctly American problem, it is the world's challenge," Conway said Monday on Fox News' "Fox & Friends" program. "The president will call upon our allies and others to come together to push back against a nuclear capable North Korea."
Yet Trump was muted in his enthusiasm as he exited the UN on the first day of the General Assembly and offered reporters a riff on his "Make America Great Again" campaign slogan.
"The main message is 'make the United Nations Great.' Not again. 'Make the United Nations great,'" Trump said. "Such tremendous potential, and I think we'll be able to do this."
While the State Department is taking the fewest number of diplomats to the gathering in more than a decade, Trump is bringing a coterie of top aides and spending four full days in New York, about double the time former presidents Barack Obama and George W. Bush typically spent at General Assembly meetings. That's in large part because because U.S. officials see an opportunity to make progress in so many key areas.
Trump Sets Aside UN Distrust to Seek Allies on North Korea, Iran
"It's a new day at the UN," Nikki Haley, the U.S. envoy to the UN, said Friday in Washington. "It's not just about talking, it's about action."
The cooperative relationship -- at least in a few key areas -- can be attributed to the relationship forged between two seasoned politicians: Haley, a former South Carolina governor, and Guterres, a former Portuguese prime minister who, like Trump, took office in January. While many UN officials watched with horror as the Trump administration vowed to slash spending on foreign aid, including the UN, by about one-third, Guterres and Haley found a way to target troubled peacekeeping efforts.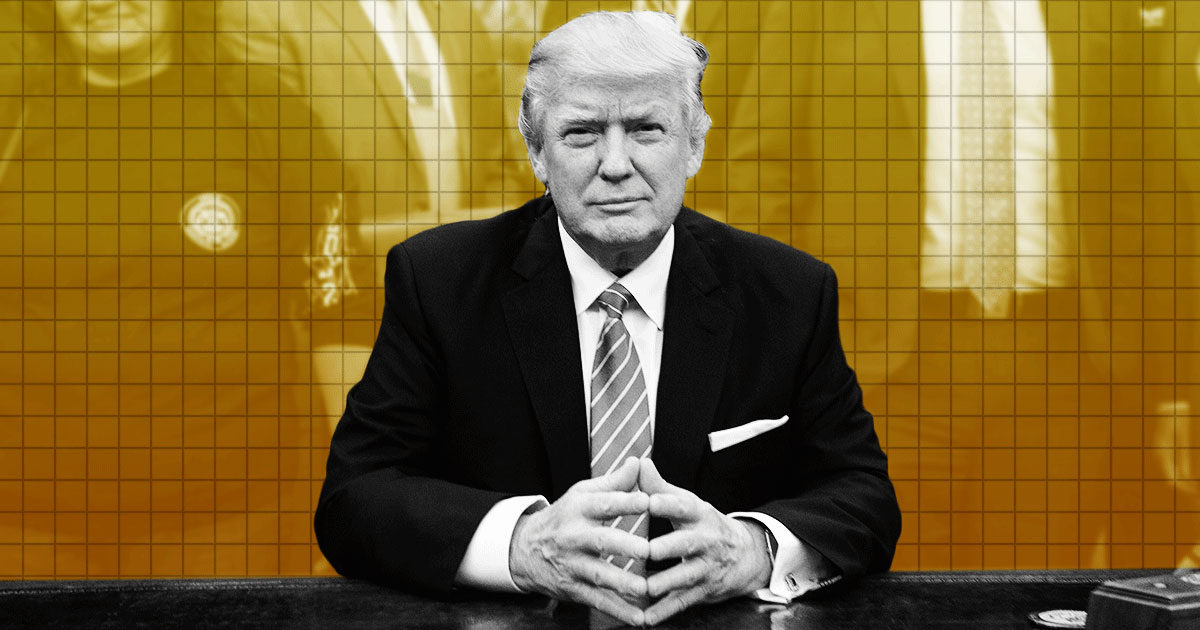 Those programs, in countries including the Democratic Republic of Congo and South Sudan, had long been criticized for not protecting civilians and, in some cases, sexually exploiting the very populations they were meant to defend.
Trump on Monday called for "clearly defined" goals and metrics for every UN peace-keeping operation. He told a U.S.-organized meeting of UN diplomats on reform efforts that "bureaucracy and mismanagement" are preventing the organization from realizing "truly noble goals. "
For Guterres, it's a partnership forged in practicality: The U.S. is the UN's top contributor, providing 28.5 percent of the $7.3 billion peacekeeping budget and 22 percent of the core budget of $2.7 billion. Targeting cuts in U.S. contributions to efforts the UN admits are ineffective is a win for both sides.
Hosting Ivanka
The secretary-general has shown his political acumen, hosting Trump's daughter Ivanka for lunch and, in private meetings with ambassadors, outlining plans to revamp UN agencies that provide humanitarian aid to avoid duplication and proposing changes to strengthen his office.
"All major reforms in the UN have been the result of the largest financier working with the secretary-general to convince other members of the need for reform," said Brett Schaefer, senior research fellow at Heritage Foundation.
In a letter sent in July and seen by Bloomberg News, Haley urged member countries to back Guterres to "use his executive authority to pursue a robust management and reform agenda."
"It's imperative that Guterres works hand-in-glove with the U.S. ambassador," said Peter Yeo, a vice president at the nonprofit United Nations Foundation. "Otherwise it's difficult to achieve anything at the UN."
Haley bragged Friday that 120 nations have signed on to the "very, very important, massive reform package led by" Guterres. Trump will host those signatories at an event Monday in New York, part of a full, four-day agenda for the president that will touch on top global issues including:
North Korea
Haley and National Security Adviser H.R. McMaster say two recent rounds of tougher sanctions against Kim Jong Un's regime for it's nuclear and ballistic-missile tests need more time to take effect, and they emphasized that Trump has plenty of military options at his disposal. Trump will meet the leaders of South Korea and Japan on Thursday in a show of unity on the issue.
Iran
Trump has fumed at the 2015 agreement reached by Obama with Iran and five other world powers aimed at curtailing the Islamic Republic's nuclear program. The U.S. president has to "certify" Iran's compliance with the accord every 90 days to Congress and has signaled he won't do so when the next deadline arrives in mid-October. But European allies as well as Russia and China still support the accord. U.K. Foreign Minister Boris Johnson, standing alongside U.S. Secretary of State Rex Tillerson last week, said "it's important that we make it work and that we keep it alive." Officials from all the countries involved in the deal are expected to discuss their views Wednesday.
Climate Change
The Paris climate change treaty was agreed on by world leaders just two years ago and enjoys wide support internationally, despite Trump's decision earlier this year to withdraw from the agreement. Tillerson said Sunday that "under the right conditions," the U.S. might remain part of the accord. But Trump's chief economic adviser, Gary Cohn, emphasized to climate and energy officials at the UN on Monday that the U.S. still intends to withdraw, according to three people familiar with his remarks at a private breakfast. With an almost daily series of events and meetings planned this week to shore up support for the accord, diplomats will be keen to understand where exactly the U.S. now stands.
Read More: Cohn Is Said to Tell World Leaders U.S. Will Exit Paris Accord
Qatar
The months-long diplomatic and economic standoff between Qatar and a bloc of Middle East nations led by Saudi Arabia continues to fester, despite Trump's vow to personally mediate in the crisis if needed. With allies on both sides of the dispute, Trump and Tillerson are expected to meet with leaders from the range of countries involved to forge a truce, if not a resolution, that allows more attention to be put back on Iran.
Myanmar's Refugees
Leaders are sure to take up the issue of Myanmar's displaced and persecuted Rohingya minority. The UN's top human-rights official has accused Myanmar, led by Nobel Peace Prize winner Aung San Suu Kyi, of "ethnic cleaning" after an estimated 400,000 Rohingya Muslims were driven from the Buddhist-majority nation.
Venezuela
The nation with the world's largest oil reserves has been sliding into an economic and political crisis for years, but the situation seemed to pass a tipping point this year as President Nicolas Maduro called for a constituent assembly to rewrite the constitution after months of deadly street protests. Trump and several Latin American leaders, including Colombian President Juan Manuel Santos, are expected to discuss Venezuela over dinner on Monday.
— With assistance by Nick Wadhams, Toluse Olorunnipa, Margaret Talev, and Jennifer Jacobs
Before it's here, it's on the Bloomberg Terminal.
LEARN MORE