Trump and Santos to Weigh Plans to Pressure Venezuela Government
By and
Santos reiterates regional opposition to military intervention

Vast oil wealth means Venezuela could easily improve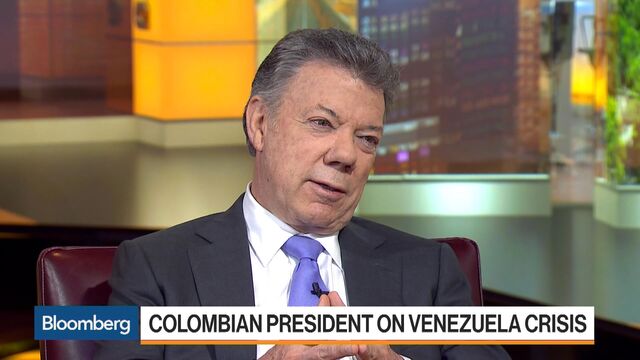 Colombian President Juan Manuel Santos and President Donald Trump will discuss how to best to apply pressure to Venezuela when they meet Monday as part of a gathering with other Latin American presidents.
Colombia, the U.S. and other countries must work together to show the Venezuelan government it has "no support whatsoever" and help promote the country's return to constitutional order, Santos said in an interview on Bloomberg TV.
"It's a country that has the largest reserves of oil in the whole world," Santos said. "The Venezuelan situation could very easily be improved if they have a good government."
Colombia, which has 1,300 miles of border with Venezuela, has the most to gain from a peaceful transition of power in its neighbor, Santos said. Venezuelan migrants have recently become a common sight in major Colombian cities, many working as street hawkers or asking for money on public transport.
The U.S. last month imposed sanctions that restrict trading in new debt issued by the Venezuelan government and state oil company PDVSA in an effort to cut funding for President Nicolas Maduro's government. This followed other rounds of sanctions on Venezuela, which have targeted individual members of the government, including PDVSA's Chief Financial Officer.
Santos reiterated that neither Colombia nor any of its neighbors would back a military intervention by the U.S. in Venezuela, which Trump suggested in August was a possibility.
The U.S. has provided aid to Colombia for at least six decades, including more than $10 billion since the Clinton administration's Plan Colombia counter-narcotics program.
The U.S. knows "we have been working together for 30 years and that we need to continue to work together," Santos said. "There is a co-responsibility both of the consuming countries, and the U.S. is the No. 1 consumer, and of the producing countries like Colombia, we must work together."
Before it's here, it's on the Bloomberg Terminal.
LEARN MORE