Brexit Rift Widens as Speculation Mounts on Johnson Resigning
By and
Foreign secretary teases May with hint that he might step down

May to hold Brexit cabinet meeting Thursday, official says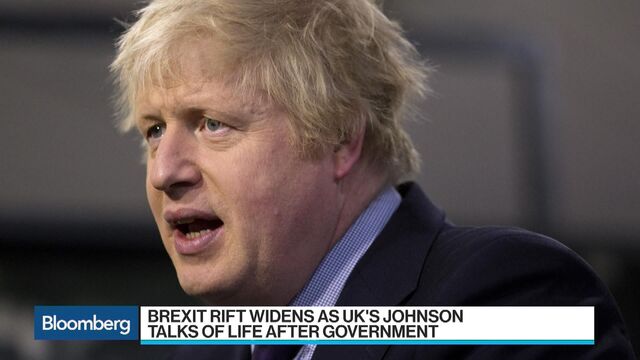 Follow @Brexit for all the latest news, and sign up to our daily Brexit Bulletin newsletter.
U.K. Prime Minister Theresa May is locked in a battle with Boris Johnson that could alter the course of her Brexit strategy, with her top diplomat dangling the option of stepping down.
The Daily Telegraph, a Conservative-leaning newspaper for which Johnson used to write, reported that he was ready to resign before the weekend if May embraces a "Swiss model" for Brexit that has the U.K. paying to retain access to the European single market. She is due to give a landmark speech on her Brexit vision on Friday in Florence, Italy.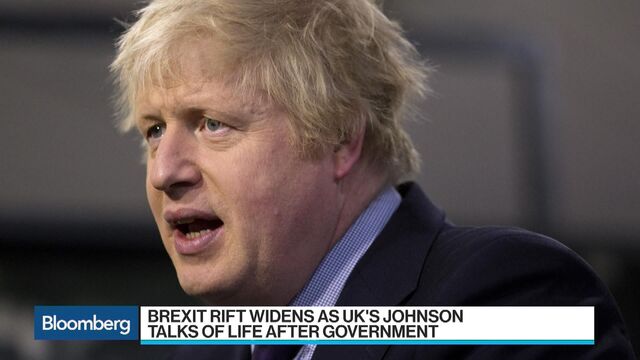 Late on Monday Johnson openly discussed leaving office in an interview. On Tuesday he joked about the Cabinet being a "nest of singing birds" when intercepted by reporters after a jog in New York. He told them he wouldn't resign.
May will renew her efforts to show who is in charge on Thursday, with a special cabinet meeting on the eve of her Brexit speech. She told reporters on a trip to North America on Monday that Johnson's 4,000-word essay on his Brexit vision wasn't authorized and that she is in control.
Johnson's maneuvers have thrown plans for her Florence speech into disarray. She is hoping to break the deadlock in negotiations, which have stalled over the question of the U.K.'s divorce settlement. There is speculation May will use her speech to signal that Britain will keep paying money to the EU after it quits the bloc, as part of efforts to ensure a smooth transition.
May's authority over the Conservative Party was shredded after she called a snap election and lost her majority in June. Colleagues including Chancellor of the Exchequer Philip Hammond, who wants to maintain ties to Europe and was previously shut out by May, have now gained greater clout. Johnson released his Brexit vision just as the rest of the Cabinet was mostly coming together around a common stance for the split.
His foray risks the wrath of colleagues as he's perceived as putting his own ambitions ahead of government unity. May needs to make a political calculation if she can afford to let go of him or if she still needs his stamp of approval.
"There are rules called collective responsibility," former Tory Chancellor Kenneth Clarke told BBC Radio 4. "Sounding off in this way is completely unacceptable. Unfortunately after the general election it's difficult for her to sack him."
Read more: Is Boris Johnson a Liability Theresa May Can't Do Without?
— With assistance by Svenja O'Donnell
Before it's here, it's on the Bloomberg Terminal.
LEARN MORE