CBS's Ten Acquisition Overcomes Legal Challenge from Local Mogul
By
Sydney court dismisses attempt to bar CBS from creditors vote

Meeting of Ten Network's creditors to go ahead on Tuesday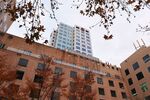 CBS Corp. overcame a last-ditch attempt to derail its planned takeover of ailing Australian broadcaster Ten Network Holdings Ltd. after a Sydney court dismissed a challenge by local media mogul Bruce Gordon.
CBS is free to vote on its proposed acquisition at Tuesday's meeting of Ten creditors, Justice Ashley Black said in a ruling Monday at the New South Wales Supreme Court. Black also dismissed a claim by Gordon and his regional company, WIN Corp., that Ten's administrators Kordamentha hadn't provided enough information to creditors.
"I am not satisfied that CBS should be prevented, in advance, from voting at the meeting," Black said in his judgement. Gordon failed to make the case that Tuesday's meeting be delayed, he said.
CBS is Ten's largest creditor. The judgement came three days after Gordon and News Corp. Co-Chairman Lachlan Murdoch made a sweetened rival takeover offer for Ten.
Ten's creditors are now in control of the company's future. While they're due to vote on the offer from CBS, the most-watched U.S. network, on Tuesday, they may still seek to adjourn the ballot in order to assess Murdoch and Gordon's competing proposal.
Murdoch and Gordon are jointly offering about A$230 million ($184 million) for Ten, according to people familiar with the matter. That compares with CBS's proposal that is valued at about A$205 million, one of the people said.
The key difference between the two offers is the amount available for unsecured creditors. Murdoch and Gordon are offering A$55 million while CBS has offered A$32 million.
Ten had crumbled under the cost of buying programs from the U.S. as advertising revenue plunged. The broadcaster was valued at just A$59 million before its stock was suspended from trading in June. Murdoch and Gordon had been guarantors to Ten's debt but declined to provide further support as the broadcaster sought a fresh loan.
Before it's here, it's on the Bloomberg Terminal.
LEARN MORE