Politics
Boeing's Dispute With Bombardier Matters to Theresa May
As the U.K. prime minister visits Canada, her political friends in Northern Ireland want some help.
By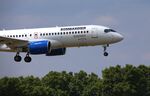 There are at least 10 reasons why a dispute between two airplane manufacturers in North America is reverberating across the Atlantic.
British Prime Minister Theresa May relies on that number of Democratic Unionist Party lawmakers from Northern Ireland to pass some key legislation after losing her parliamentary majority three months ago. So what matters to DUP leader Arlene Foster matters to May, and what matters most to Foster right now is Bombardier Inc., the biggest private employer in the U.K. province and the target of a trade complaint by larger rival Boeing Co.
At the behest of Foster, May contacted U.S. President Donald Trump this month to ask him to intervene. Boeing wants the U.S. to impose tariffs against Bombardier over the sales of its C Series jets at "absurdly low prices" while receiving unfair government support. The aircraft are partly built in Belfast. May takes her campaign this week to Canada, where she'll discuss the matter with Prime Minister Justin Trudeau.
The "lobbying continues," Foster said in an interview, adding that the U.K.'s defense, foreign and business secretaries are all "actively engaged" on the issue alongside May. "Ministers are all aware of the importance of this issue to Northern Ireland and are acting in the best interests of everyone living here," she said. "It is vital that all efforts are maintained over the next few weeks."

The pressure is on May to demonstrate that's happening. Talking to journalists on the plane to Canada, May said she'd raised the issue with Trump in their most recent phone call. "What I laid out to President Trump was that this was an issue that was of concern to the U.K. because of the jobs in Northern Ireland and the impact that it could have,'' she said. She's due to meet the president again at the United Nations General Assembly this week.

First, she will sit down with major Canadian investors in the U.K. including Alain Bellemare of Bombardier and talk about trade with Trudeau. May wants Canada's deal with the EU to be replicated for the U.K. after Brexit.
The DUP is effectively keeping May in charge after a disastrous snap election in June forced her to cut a deal with the party as Britain seeks to exit the European Union. It has already rebelled once, last week backing the opposition Labour Party rather than May's Conservatives on pay for health workers.
The aim is to get Boeing to drop its case and seek a negotiated settlement with Bombardier, the U.K. Department of Business said. Canada's ambassador to Washington, David MacNaughton, said he expects the world's largest maker of airplanes to take note.
"Clearly, if I were in Boeing's shoes, I would think that having one of your largest customers -- the U.K. government, and some of the airlines in the U.K. -- raising this kind of a concern, I'd be worried about it," MacNaughton told reporters on Sept. 12. He said the U.K. had approached Canada and offered to help because of concern about future production in Belfast.
Yet there's no guarantee there will be much of an impact in Washington. Trump has shown little interest in Northern Ireland, proposing an end to the role of U.S. economic envoy to the region created by President Barack Obama, said Graham Brownlow, an economics professor at Queen's University in Belfast.
"Will a call from Theresa May make a difference? Possibly," said Brownlow. "But equally there's a chance he sees this as a chance for a big win for Boeing and the U.S."

Bombardier is the prize asset for a region that's struggled to shake off the legacy of decades of sectarian violence and then the financial crisis. The average full-time wage in Northern Ireland is about 10 percent lower than Britain as a whole and region is among the most dependent on government jobs. Foster said Bombardier pours 183 million pounds ($246 million) into the Northern Irish economy in wages alone.
Close to Belfast airport, and at sites scattered through the city, the company has been a high-wage employer since it bought Short Brothers in 1989 from the U.K. government. Many work building wings for the C Series in a facility opened by David Cameron, May's predecessor, in 2013.
The Canadian company employs about 4,500 in the city of 300,000, even after a recent round of job cuts that DUP lawmaker Gavin Robinson said last week "underscores the importance of Bombardier to the local economy."
From his east Belfast barber shop, Jason Shankey has watched Bombardier flourish. He expects results.
"A lot of our clients work at Bombardier and over the years we have seen hundreds and hundreds of them coming into us," said Shankey, 46, who runs five barber shops in the city and backs Foster's efforts to keep jobs in Belfast. "Ultimately that is their job and their role in Westminster is to lobby and keep employment healthy," he said. "That's what they need to do for East Belfast and Northern Ireland."
— With assistance by Josh Wingrove, Flavia Krause-Jackson, and Robert Hutton
Before it's here, it's on the Bloomberg Terminal.
LEARN MORE