As China's Bond Market Opens, Global Funds See Watershed Moment
Bloomberg News
Liberalization set to significantly alter global money flows

Inflows will reach $3 trillion by 2025, Citi estimates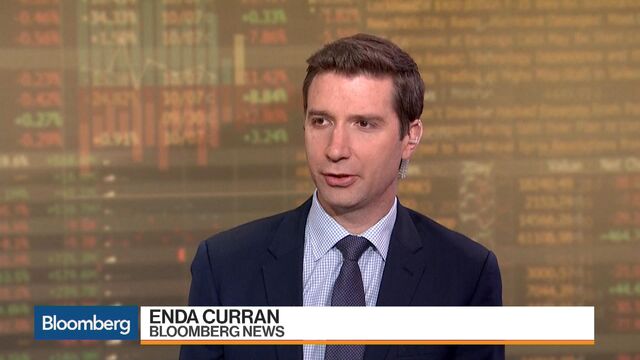 Deng Xiaoping, the former Communist leader credited with opening China's economy to the world, described his approach to reforms as "crossing the river by feeling the stones."
That philosophy continues to influence policy makers in Beijing as they gradually open the nation's bond market to foreign investors. The liberalization has potential to be the biggest of its kind and significantly impact the flow of international capital.
For China, which already boasts the world's third-largest bond market, opening up will offer domestic companies an alternative source of capital to state run banks. It'll also help firm up Chinese banks' balance sheets and improve corporate governance amid scrutiny from foreign investors. Citigroup Inc. estimates inflows of $3 trillion dollars by 2025.
Opening the debt markets will assist in the internationalization of the yuan, helping it climb the ranks of global reserve currencies. For that to happen, policy makers will need to free up the capital account so global investors know they can get their money out, not just in.
For the world economy, Chinese borrowers loom as a new source of competition for investors' money should its bond market keep opening. That change, as China's role as a creditor nation shifts, may mean higher borrowing costs for the rest of the world.
"The biggest story of the last 15 years has been China's integration into the global trading system," said David Loevinger, an analyst at TCW Group Inc. in Los Angeles and a former China specialist at the U.S. Department of the Treasury. "The big story for the next 10 years will be its integration into the global financial market."

The most recent conduit into the market was opened in July, when the so-called bond connect with Hong Kong started. The system lets foreign investors buy yuan-denominated notes that have been issued on the mainland.
Bond connect was only the latest move to invite offshore assets. Foreign institutional investors were allowed free access to the mainland's interbank market in February 2016, subject to conditions such as opening an account with a Chinese bank and meeting the definition of a long-term investor. And foreign central banks and international financial institutions were given access to mainland bonds in July 2015 as part of China's winning pitch to win reserve currency status for the yuan at the International Monetary Fund.
While the steps are incremental, analysts say they could ultimately significantly impact the flow of capital in the global economy.
"This is a watershed," said Stephen Jen, the London-based chief executive of hedge fund Eurizon SLJ Capital Ltd. and a former IMF economist. "Investors in the world will not be able to ignore it for too long."
Holdings Rise
Overseas investors increased their China onshore bond holdings by 62 billion yuan ($9.5 billion) in the second quarter, according to central bank data. Foreign holdings may exceed 1 trillion yuan this quarter, according to an estimate from Becky Liu, head of China macro strategy at Standard Chartered Plc in Hong Kong.
Citigroup, which obtained a bond underwriting license in China in July, said there may be "significant" inflows into China's debt market.
"We see increasing interest from foreign institutional investors in the China interbank bond market including corporate bonds," said Eduardo Delascasas, Citigroup's China head of markets and securities services in Shanghai.
Observers are quick to flag that there are still significant hurdles.
The first is currency convertibility. The yuan's value continues to be tightly controlled by the government and doesn't freely trade the way the euro or dollar does. Then there are capital controls. An investor typically parks money in a country on the basis that it can be withdrawn at a time of their choosing. This isn't the case in China, where strict rules are enforced on moving currency over the border.
Lingering Concerns
Other areas of concern include a lack of transparency, question marks around corporate governance, rising defaults and a different legal system. Tokyo-based Mitsubishi UFJ Kokusai Asset Management has said it's avoiding Chinese corporate notes because of uncertainties about the nation's policy outlook.
Inflated ratings are another challenge, so much so that China's biggest bond clearing house has said some onshore corporate notes are overrated. Moody's Investors Service cut its sovereign rating on China's debt in May to A1 from Aa3, the first reduction since 1989. Meanwhile domestic firm Dagong Global Credit Rating Co.'s AA+ score on China's sovereign debt in local currency terms, and AAA in foreign currency terms, compares with its A- rating for the U.S.
Total outstanding credit climbed to about 260 percent of GDP by the end of 2016, up from 160 percent in 2008, according to Bloomberg Intelligence.
The country's bond market also remains shallow and mostly trades in policy bank notes. Foreigners hold only about 2 percent of the total. The interbank market makes up 90 percent of all the notes in China, with about $8.3 trillion of outstanding securities, according to data compiled by Bloomberg.
READ: China bond opening fails to spur Asian funds wary of policy
Investors need to see a "better pricing discovery mechanism" for the corporate debt market, Jean-Charles Sambor, deputy head of emerging-market debt at BNP Paribas Asset Management, said in July.
Global Indexes
China will also need inclusion in major bond indexes. Citigroup said in March it's set to add Chinese onshore sovereign bonds into three of its indexes next year, but not in its most widely watched gauge. Bloomberg Barclays Indexes, owned by Bloomberg, overhauled its China fixed-income gauges and started a Global Aggregate + China index in March, while stopping short of adding the nation to its major benchmarks.
Still, the number of foreign participants in the market has doubled in just two years to 400, according to Bloomberg Intelligence. Authorities in Beijing have agreed to allow foreign-owned firms to provide credit ratings. And while it still has a long way to go before surpassing the $38 trillion U.S. bond market, Japan's $12 trillion market is in sight.
Encouraged by the bond market opening, global money managers are also increasingly looking to do business in China. Fidelity International has started a private fund to sell onshore products to eligible Chinese investors after the government loosened restrictions last year. Neuberger Berman Group LLC has said China will be a "hot spot" for competition among global funds as the importance of the nation's capital markets grows.
"One thing that China's bond market has going for it is the return potential," said Teresa Kong, portfolio manager at Matthews Asia. "In the current world where German and Japan yields are still negative, there are few other A- rated sovereigns that offer yields of 4+ percent. With just a bit of currency appreciation, then we're talking about return potential that's going to be difficult for many global bond investors to pass up."
— With assistance by Enda Curran, and Judy Chen
Before it's here, it's on the Bloomberg Terminal.
LEARN MORE