Real Estate
Floyd Mayweather Pays $26 Million for Beverly Hills Mansion
By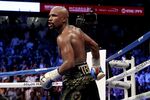 Boxing champ Floyd Mayweather found a new place to hang up his gloves and spend some of his $100 million purse from last month's technical knockout of Conor McGregor: a mansion in Beverly Hills, California.

Mayweather closed on a six-bedroom, 10-bathroom, 15,000-square-foot (1,400-square-meter) "French-modern" estate for $26 million, according to Alexander Ali, a spokesman for the home's developer, Nile Niami. The home, which Niami built speculatively and listed for $28.95 million, comes with a two-bathroom master suite, wine cellar, gym, four-car garage, pool and guest house with a 20-seat cinema. In case the visitors' quarters are occupied, the estate is just a short walk to the celebrity-studded Beverly Hills Hotel.
Niami, a former Hollywood producer, is also the developer of a 74,000-square-foot hilltop spec home in Bel Air that he plans to put on the market next year for $500 million, which would be the highest price sought for any residence globally. Niami, meanwhile, has lowered the $100 million asking price to $85 million for a Beverly Hills spec home called Opus, originally listed in April with a racy video of scantily clad, gold-painted models cavorting in the seven-bed, 11-bath mansion. The lower price excludes original extras such as a Rolls-Royce and Lamborghini and Damien Hirst art.
Before it's here, it's on the Bloomberg Terminal.
LEARN MORE