Lonmin Is Said to Breach Social Plan Needed for Mining License
By
South Africa issues non-compliance order to platinum miner

Company must resolve issues within specified timeframe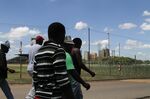 Lonmin Plc has been given a deadline by South African authorities to fix non-compliant parts of its social labor plan or risk having its mining right suspended, according to a person familiar with the matter.
The Department of Mineral Resources issued a so-called Section 93 notice to the platinum miner relating to shortcomings in Lonmin's commitment to local development programs, community education and procurement, said the person, who asked not to be identified because the notice hasn't been made public.
Lonmin has had a fractious relationship with the community around its mines northwest of Johannesburg ever since police shot and killed 34 protesters in 2012 during a strike near its Marikana operations. It was the most deadly state shooting in South Africa since Apartheid. This year, the company was forced to temporarily close two shafts in May after community protests turned violent.
Read more: Bus-Burning Protesters Are Latest Threat to Lonmin Comeback
"We have received correspondence from the DMR that highlights areas that have been identified as non compliant and/or are behind schedule of implementation in our current SLP," Lonmin said in a statement. The company will provide evidence of compliance in some areas and is requesting time extensions in other areas, it said.
"We are further engaging the DMR to ensure that community intervention programs proposed are sustainable and in line with the municipal and provincial priorities for economic development."
Ayanda Shezi, a spokeswoman for the department, acknowledged a request for comment and said she would respond later.
The suspension or revoking of mining licenses under Section 93 of South Africa's mining law, while possible, is a "worst-case scenario," according to law firm Hogan Lovells. As in the case of Lonmin, companies found to be in breach are first given time to comply.
Lonmin fell for a seventh day, declining 3.3 percent to 73.50 pence a share at 12:14 p.m. in London. Platinum dropped 0.9 percent to $974.55 an ounce.
Social labor plans are required by the government to make sure host communities benefit from mining beyond employment and taxes. But they frequently have little input from community members and are rarely enforced, according to a report in March by the Centre for Applied Legal Studies.
Read more: South Africa Mine Communities Ignored in Design of Social Plans
"SLPs are not assisting in overcoming systemic inequality," it said. "A fundamentally changed system is therefore required," including a greater say for communities, a right for them to reject mining on their land and better communication with local authorities.
Before it's here, it's on the Bloomberg Terminal.
LEARN MORE