Equifax Credit Freezes Spell Pain for Banks Behind Store-Branded Cards
By and
Selling cards at point of sale could get tougher for issuers

Synchrony Financial gets just 40% of its applications online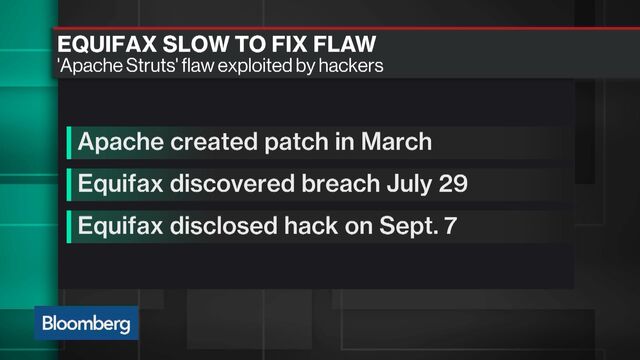 Equifax Inc.'s massive data breach could make an already tough market outlook even more daunting for the firms behind Gap Inc.'s and Ann Taylor's store-branded credit cards.
Those retailers' banking partners, including Synchrony Financial and Alliance Data Systems Corp., could see fewer account originations as more consumers freeze their credit to avoid hack-related fraud. Consumers have to take extra steps -- including calling the credit bureau, going online or paying fees -- to lift a block and get a new card.
"If people are defaulting to credit freezes, then if you're a Macy's retailer trying to sell credit cards, you can't get that done at the point of sale," said Vincent Caintic, an analyst at Stephens Inc. "It could become a regular thing, these freezes. It does slow down the origination process and it's probably going to increase acquisition costs."
Representatives from Synchrony and Alliance Data, which issues credit cards through its subsidiaries Comenity Bank and Comenity Capital Bank, didn't immediately respond to phone and email requests for comment. Synchrony said earlier this year it gets just 40 percent of its applications on the web. Equifax said as many as 143 million Americans were victims of the breach, putting them at risk of identity theft.
Read more about the Equifax hack
Private-label credit-card issuers are already struggling to generate spending on their products as the retail slump forces more store closures and write-offs. Synchrony, the largest issuer of private-label credit cards in the U.S., has fallen 20 percent this year, compared with a 6.1 percent increase for the 67-company S&P 500 Financials Index. Alliance Data has dropped 6.3 percent this year.
Opting for credit freezes in response to the hack "would create friction and be an impediment for growth" at the issuer banks, said Sanjay Sakhrani, an analyst at Keefe, Bruyette and Woods. Still, he said, "if the customer wants it enough, there are channels and avenues that they can go through to unfreeze their credit histories."
Before it's here, it's on the Bloomberg Terminal.
LEARN MORE