Elizabeth Warren Sets Her Sights on Equifax
By
Democrat to introduce bill cracking down on credit companies

She's also seeking answers from Equifax and its competitors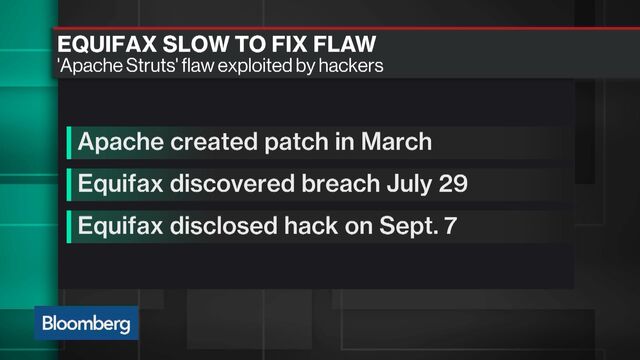 Follow @bpolitics for all the latest news, and sign up for our daily Balance of Power newsletter.
Senator Elizabeth Warren, Wall Street's most relentless critic in Congress, wasn't going to let a good scandal involving a financial company go to waste.
The Massachusetts Democrat is setting her sights on Equifax Inc., an institution that's quickly become one of the U.S.'s most tainted brands after it disclosed a massive cyberbreach. The information stolen by hackers may have affected 143 million Americans and included data that is considered the keys to the kingdom in committing identity theft: Social Security numbers, drivers license information and birth dates.
Warren will introduce legislation Friday aimed at cracking down on Equifax and giving consumers more control over the data credit companies collect, she said in a statement.
The bill, also sponsored by Brian Schatz from Hawaii, would require Equifax and its competitors to freeze consumers' credit reports free of charge, and restrict their ability to profit from data during the freeze. Consumers would be able to access their credit reports for free, according to the bill.
Warren also sent letters to the Consumer Financial Protection Bureau and the Federal Trade Commission demanding more information about how the regulators are investigating the breach. In addition, Warren wrote to the the three main credit reporting companies -- Equifax, TransUnion and Experian Plc -- seeking answers on how the industry is responding.
Criticism of Equifax is mounting. Senate Minority Leader Chuck Schumer said Thursday that the company "stunningly and epically" failed to protect people's sensitive information. In a speech on the Senate floor, he called the data breach "one of the most egregious examples of corporate malfeasance since Enron."
The senators' frustration adds pressure on an industry that plays a big role in the U.S. economy. Banks rely on the credit reports issued by Equifax, TransUnion and Experian to issue consumers loans.
The good news for Equifax: With Republicans in control of Congress, Warren's bill may not go anywhere.
Before it's here, it's on the Bloomberg Terminal.
LEARN MORE