'Wolf of Wall Street' Producer Settles U.S. Forfeiture Suit
By
Settlement also covers 'Daddy's Home,' 'Dumb and Dumber To'

The lawsuit is among more than two dozen 1MDB-linked cases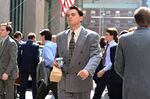 The producer of "The Wolf of Wall Street" settled a forfeiture lawsuit by the U.S. Justice Department alleging the movie was funded by money siphoned from a Malaysian state investment fund.
Lawyers for Red Granite Pictures Inc., which was co-founded by Riza Aziz, a stepson of Malaysian Prime Minister Najib Razak, said in a filing Friday in federal court in Los Angeles that they have reached a "settlement in principle" with the government.
Terms of the settlement weren't disclosed. It will also cover U.S. forfeiture claims against the producer's rights and interests in two other pictures, "Daddy's Home" and "Dumb and Dumber To."
"We are glad to finally put this matter behind us and look forward to refocusing all of our attention back on our film business," Red Granite said in a statement.
The complaint against the 2013 picture, directed by Martin Scorsese, is among more than two dozen forfeiture lawsuits filed by the U.S. against $1.7 billion assets that were allegedly acquired with money stolen from 1Malaysia Development Bhd. The assets include mansions in Beverly Hills, California, luxury condos in New York, jewelry and artworks.
The Justice Department sought the profits, royalties and distribution proceeds that are owed to Red Granite Pictures. The movie starring Leonardo DiCaprio took in $392 million in worldwide ticket sales, according to the website Box Office Mojo.
Bombardier Jet
Riza is a friend of Low Taek Jho, also known as Jho Low, the Malaysian financier whom the U.S. alleges orchestrated the scheme to loot $4.5 billion from the Malaysian fund going back to 2009. Of the allegedly stolen money, $1.7 billion has been traced to assets in the U.S. and U.K., including a stake in New York's Park Lane Hotel, a stake in EMI Music Publishing, a $35-million Bombardier Jet, and a $30-million penthouse at Time Warner Center.
Trusts for Low and his family are fighting lawsuits seeking to forfeit those assets.
The Justice Department last month asked a judge to put the civil forfeiture lawsuits on hold because it doesn't want to have disclose the identities of witnesses and other sensitive information while it's pursuing a parallel criminal investigation.
U.S. prosecutors in June escalated its efforts to recover assets they claim were acquired with stolen funds by filing a second round of 1MDB-related forfeiture lawsuits. The new claims include a $1.29 million heart-shaped diamond and a $3.8 million diamond pendant Low gave in 2014 to his then-girlfriend, actress Miranda Kerr. Low allegedly also gave a $3.2 million Picasso painting to DiCaprio, according to the new lawsuits.
Thom Mrozek, a spokesman for the U.S. attorney's office in Los Angeles, declined to comment because some details of the settlement haven't been finalized yet.
The case is U.S. v. "Wolf of Wall Street," 16-05362, U.S. District Court for the Central District of California.
Before it's here, it's on the Bloomberg Terminal.
LEARN MORE