Ukraine Still Has Plenty to Do to Satisfy Its $17.5 Billion Bailout
By
Deputy head Lipton says more actions needed to boost economy

Bailout has suffered repeated delays as commitment questioned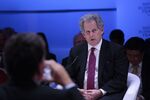 This week's visit by the International Monetary Fund's second-in-command has shone the spotlight on how much Ukraine still has to do under its $17.5 billion bailout.
First Deputy Managing Director David Lipton ended a two-day trip to Kiev Thursday after meeting with central bank and top government officials to discuss progress on meeting the Washington-based lender's terms for the next aid disbursement. Ukraine must take further action to switch to rapid growth from economic stabilization, Lipton told Prime Minister Volodymyr Hroisman a day earlier.
Repeated delays to the IMF program have thrown into question the former Soviet republic's commitment, with old-guard politicians often unwilling to alter a system from which they benefit. The last $1 billion loan tranche was transferred in April, four months late, while the next had been due in the summer. Now the government is selling Eurobonds for the first time since a 2015 debt restructuring. While endorsed by the IMF, there's concern the move may weaken resolve to implement the lender's policies before elections in 2019.
"There's a risk reforms will stall in the end," said Lutz Roehmeyer, who helps oversee 12 billion euros ($14 billion) at Landesbank Berlin Investment GmbH. "If you look into the history of IMF programs, they start with enthusiasm and once reform fatigue starts we talk first about delays, then stop, then the end of the program."

Roehmeyer sees cooperation with the IMF continuing for now and the delayed fifth tranche arriving eventually. While Landesbank Berlin Investment holds existing Ukrainian debt, he said it won't buy the new bonds "because they're too long for our taste."
Parliament reconvened from summer recess this month and will vote on legislation to get the IMF program back on track. Ukraine doesn't have the luxury to delay reforms after year of "half-measures," Suma Chakrabarti, head of the European Bank for Reconstruction and Development, told a conference in Kiev Friday.
To receive its next chunk of aid, Ukraine's to-do list includes:
Pension reform. Lawmakers have passed in the first reading an IMF-backed retirement revamp under which citizens must contribute to the state fund for 25 years rather than 15 at present to be eligible for benefits. While the retirement age wouldn't rise, the government predicts the $5.6 billion pension deficit would be eliminated by 2024
Anti-corruption court. Needed to complement anti-graft investigators and prosecutors, the creation of the court has been repeatedly delayed. President Petro Poroshenko said Friday that he'd be "happy" with the court being set up in 2019 or 2020, with an interim chamber as a stop-gap. Corruption-battling activists have recently come under attack
Energy prices. The IMF deal envisages bringing household natural gas prices to the same level as Ukraine pays to import the fuel. Already behind schedule, completing this reform now could prove unpopular as winter approaches
Privatization. Legislation is needed to speed up state-assets sales and improve transparency. Initially targeting 17 billion hryvnia a year ($650 million) in privatization revenue, Ukraine has raised just 3.6 billion hryvnia since 2015
There are other issues. Poroshenko must propose a replacement for Valeriya Gontareva, who quit as central bank governor in May. While people familiar with the matter said that month that he'd put forward Raiffeisen Bank International AG's chief executive officer, Volodymyr Lavrenchuk, TV 5 reported in August that there are now two candidates.
Other reforms, such as one regarding the sale of farmland, will probably be pushed back further, though in the meantime the IMF will keep an eye on the 2018 budget, set to be discussed by the government Friday. It's unclear when a technical mission from the lender will take a more detailed look at Ukraine's reform efforts.
— With assistance by Volodymyr Verbyany
Before it's here, it's on the Bloomberg Terminal.
LEARN MORE