Trump Again Compares White Supremacists, Protesters, Drawing Rebuke
By
President again defends his remarks after Charlottesville

Points to 'pretty bad dudes' among anti-fascist protesters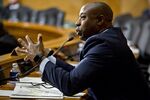 President Donald Trump again drew a parallel between white supremacists and counter protesters on Thursday, drawing a mild rebuke from South Carolina's Tim Scott, the only black Republican in the Senate who met with Trump to discuss racial issues a day earlier.
Trump told reporters aboard Air Force One Thursday that the actions of "pretty bad dudes" among anti-fascist protesters known as Antifa had validated his statement that both sides at last month's demonstrations in Charlottesville, Virginia, shared blame for violence in which a woman protesting against neo-Nazi and Confederate groups was killed.
"I think especially in light of the advent of Antifa, if you look at what's going on there, you know, you have some pretty bad dudes on the other side also," the president said in response to a question about his meeting with Scott. "And essentially that's what I said."
Trump went on to claim that since the incident in Charlottesville "a lot of people are saying -- in fact a lot of people have actually written -- 'gee Trump might have a point."'
"I said, you got some very bad people on the other side also, which is true," Trump said.
Later Thursday, the president signed a joint resolution passed by Congress denouncing the Charlottesville violence and white supremacy, and asking him to speak out against hate groups. In a statement, he said that "as Americans, we condemn the recent violence in Charlottesville and oppose hatred, bigotry, and racism in all forms."
Confers Legitimacy
Trump has come under criticism from Republicans as well as Democrats that his repeated assertion that both sides in the demonstrations were worthy of condemnation, rather than emphasizing condemnation for hate groups, confers legitimacy on white supremacists and risks emboldening racist organizations.
That included Scott, who said he requested the meeting Wednesday because he was concerned that Trump had compromised his moral authority with his remarks.
The South Carolina senator expressed disappointment on Thursday after the president again suggested a moral equivalence between neo-Nazi demonstrators and anti-fascist counter-protesters.
"Rome wasn't built in a day, and to expect the president's rhetoric to change based on one 30 minute conversation is unrealistic," said a statement from Scott's office. "Antifa is bad and should be condemned, yes, but white supremacists have been killing and tormenting black Americans for centuries. There is no realistic comparison. Period."
Scott's office said the senator was encouraged that the president did publicly reiterate his commitment to greater diversity on his staff.
"It's something I do," Trump told reporters. "But it's something I certainly would continue to do, and we did talk about that."
A White House statement issued after Wednesday's meeting With Scott said the president "remains committed to positive race relations" and will continue to meet with Scott, other members of the African-American community, and members of other minority communities, "all of which have a wealth of perspectives and experiences with respect to this issue."
Before it's here, it's on the Bloomberg Terminal.
LEARN MORE