Technology
This Cracker-Size Sensor Can Tell You Which Oven Burner You Left On
Carnegie Mellon researchers are working to better automate facilities management.
By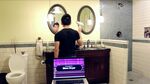 A cracker-size device combines nine sensors and a processor to detect events such as appliances turning on and off in a room. The information can then be fed to an online dashboard or sent as alerts to facilities managers.
Innovator
Gierad Laput
Age: 30
Computer science Ph.D. student at Carnegie Mellon University's Future Interfaces Group
1. Listen
The CMU sensor, plugged into a wall, processes temperature, vibration, sound, humidity, electromagnetic interference, and other data.
2. Detect
After simplifying the data and stripping out spoken words, the device sends the information via Wi-Fi to central servers, where CMU software identifies, say, which faucet or burner has been left on, or even how many paper towels are left in an automatic dispenser, then relays that to specified users.

Origin
Earlier this year, Laput conceived of what he calls synthetic sensors as an alternative to more invasive camera systems. The CMU group has built about 100 prototypes.
Funding
The project got its start with part of a $500,000 university grant from Google Inc. and has since received about $1.7 million in other grants.
Market
Laput says the sensor has attracted interest from companies looking to sell it to commercial offices, industrial plants, and greenhouses, as well as homeowners.
Next Steps
"Reducing nine categories of sensors into one is a huge improvement," says Maciej Kranz, author of a book on internet-connected devices. The CMU group hasn't decided whether or how to commercialize the sensor, Laput says. For now, it's working to improve how the software learns what's happening in a room, so the sensor can adapt to new environments without further training.
Before it's here, it's on the Bloomberg Terminal.
LEARN MORE